Liverpool Tactical Analysis
"I do not work to train the best team in the world. I work to beat it" Jürgen Klopp
Intensity and competitiveness, squad organization and technique, courage and adaptability: these are the distintive marks of Jürgen Klopp's teams, but the level reached by Liverpool in Season 2018/19 overcome the simply application. Everybody appreciated the performance of the Reds, able to involve not only the players, real protagonists of a top level football expression, but also the spectators, who admired a true football show.

Analysing this type of game to understand its ideological and methodological root it can be complex, but at the same time fascinating. 
This e-Book is first of all an in depth analysis of the Liverpool's game phases and players's tactical behaviours, and also a detailed study of Reds's game philosophy. In this publication you'll find more than 80 images of matches situations, both for the offensive and the difensive phase; moreover, we propose 10 practices regarding Klopp's training principles.
---
---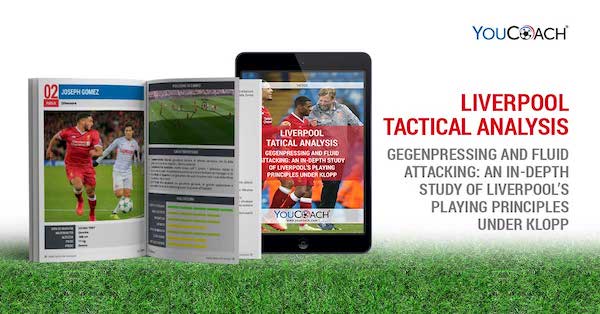 What do you find in this e-Book?
Technical sheets for every players
breaking down the offensive phase in: build-up, ball progression, movement trigger, depth, final pass, counter attack from deep
breaking down the defensive phase in: Gegenpressing, high pressing, deep pressing, defensive line attitude, double-up defending
10 practices regarding Klopp's training principles
The key to understand the Reds's way of playing is the so called "Gegenpressing",  an individual and collective pressing typical in modern football and very well expressed by Klopp's Liverpool. This in-depth study is a "must-have" for all coaches passioned by the study of game principles. The ideological and methodological tips expressed and the practices presented can be a starting point for a further adaptation in every category.
What is an e-Book?
It is a protected PDF file that will appear in your 'My e-Books' page with timely unlimited access.