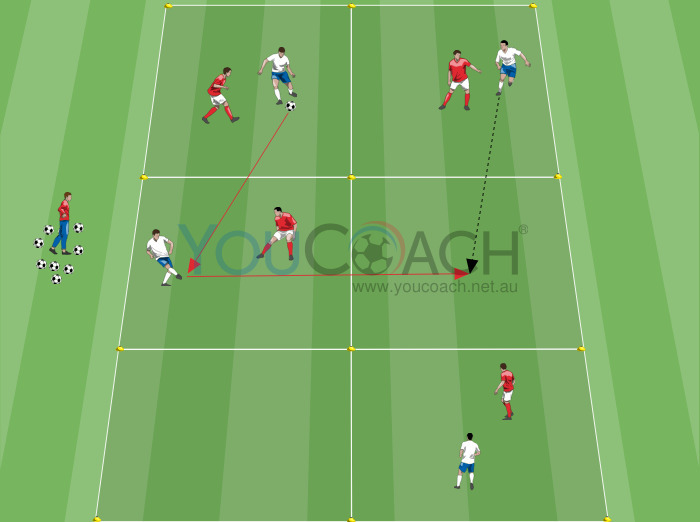 Playing Area: 21x14 meters / 23x15 yd
Players: 8
Duration: 15 minutes
Series: 3 of 4 minutes each with 1 minute of active recovery inbetween series
Organization
Create a rectangle of 21x14 meters. Divide it into six squares of 7x7 meters. Divide players into two groups of four people. Place four pairs of rival players inside different squares, in order to have many 1 vs 1 situations with some free spaces. Give the ball to one of the teams.
Description
To the coach's signal the team with the ball tries to maintain it avoiding the opponent's attack
Ball possession can be performed inside six zones with a 4 vs 4 (1 vs 1 inside each square with two free zones)
The aim is to pass from square to square using the correct body orientation and moving the ball from one zone to another
When the defending team recovers the ball, they have to maintain ball possession while the other team tries to steal the ball

Rules
No more than one player per team inside one square
Ball transmissions inside the same square are not allowed
Variations
Mandatory sequence of passes (2-1-2-1...)
Increase the size of the field to facilitate the drill
Coaching Points
Coach:

Be ready to put the ball back inside the pitch
Place the playing area in a corner of the field where balls can be easily recovered
Place yourself and some balls in a lateral zone
Have clearly in mind which aspects you want to work on
Avoid giving too many instructions
Encourage positive behaviours; plan when to correct mistakes
Player with the ball:

Alternate between one ball touch and two ball touches according to the teammate and body orientation
Pass the ball where the teammate wants it
Receiver:

Communicate using body orientation (I want to move inside a free square or I want to receive inside my square)
Orientate yourself towards the next action
Please note:
When we talk about the 2-1 rule, we are referring to the limit of ball touches that players have. This limit is linked to the choice made by the player who passes the ball. If they pass with one ball touch, the receiver has two ball touches to play. If they pass with two ball touches, the receiver has only one ball touch to play.