How to analyze your soccer season: Monitor training sessions, matches and players
How to analyze your soccer season: Monitor training sessions, matches and players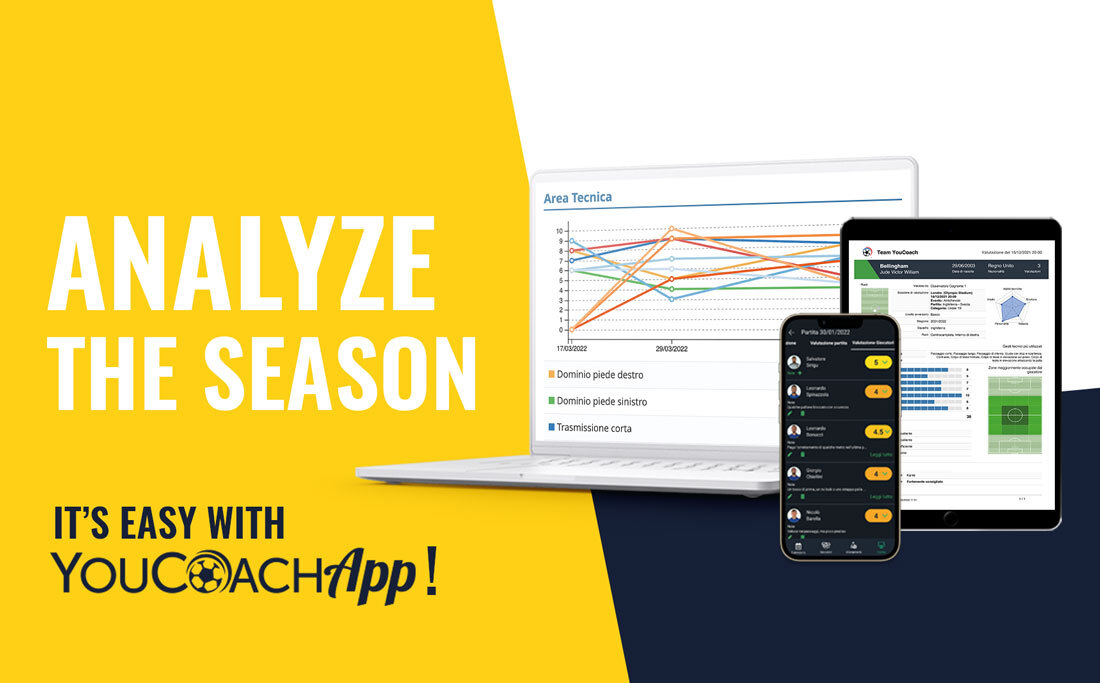 Summary
It's easy with YouCoachApp! Monitor the progress of training sessions, matches and players' performances with up-to-date charts and statistics
Training objectives, players attendance, statistics about goals and free kicks... Who can help the coach keep track of these data? It's easy... YouCoachApp!
Thanks to this software developed by YouCoach, the coach can keep track of the season trends with detailed statistics about soccer practices (players attendance, single player statistics and so on) and matches (goals, yellow/red cards, results, ecc.), everything can be shared via smartphone with the mobile app that players can also download and use.
Let's see how to analyze season data using all YouCoachApp's features.
---
HO TO ANALYZE YOUR SOCCER SEASON
To monitor everything you need and avoid the risk of losing control of your data, you need to control some parameters and statistics that can be easily collected on YouCoachApp. In particular, you will need to:
---
Every detail of your work is under control
Managing soccer trainings requires a lot of time and effort, that's why it's fundamental to collect data about them in order to know at all times how much progress has been made, which objectives have been trained and how to program work for the following weeks.
With YouCoachApp it is possible to collect and analyze various statistics, both for the team and single players. Here is what you can do before and after a soccer practice:
Analyze training loads by phase and objectives 
View a summary of players attendance
Filter data by time period and cycles
Evaluate the objectives trained and the ones you scheduled to train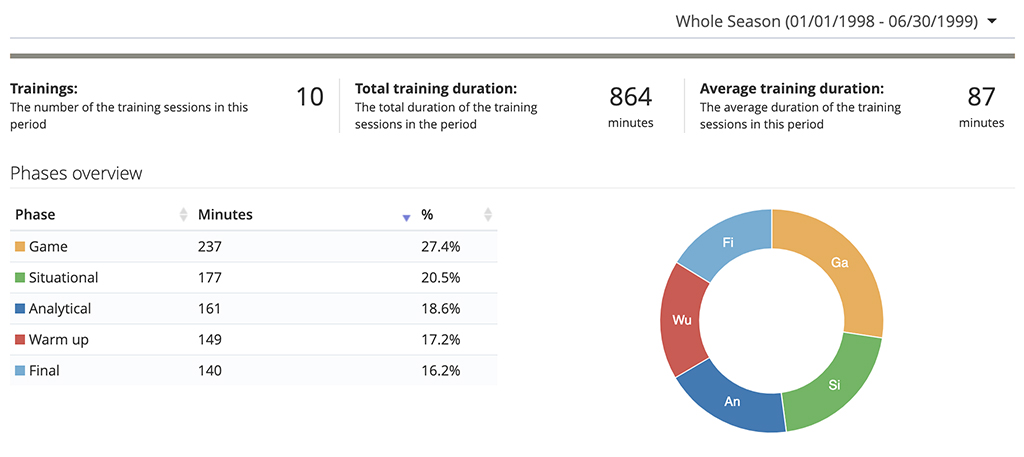 From the main dashboard of YouCoachApp you can view a summary of all training sessions and matches statistics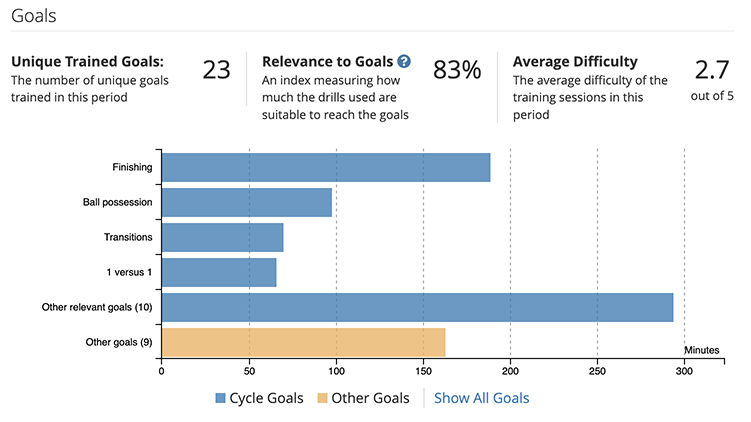 Thanks to metadata of each drill, it's possible to monitor trained objectives and their relevance with the initial training program you created
With YouCoachApp you can also monitor players attendance and track training sessions in a few clicks. Anytime the coach can:
Examine the training load summary of each session;
View the attendance log directly from your smartphone.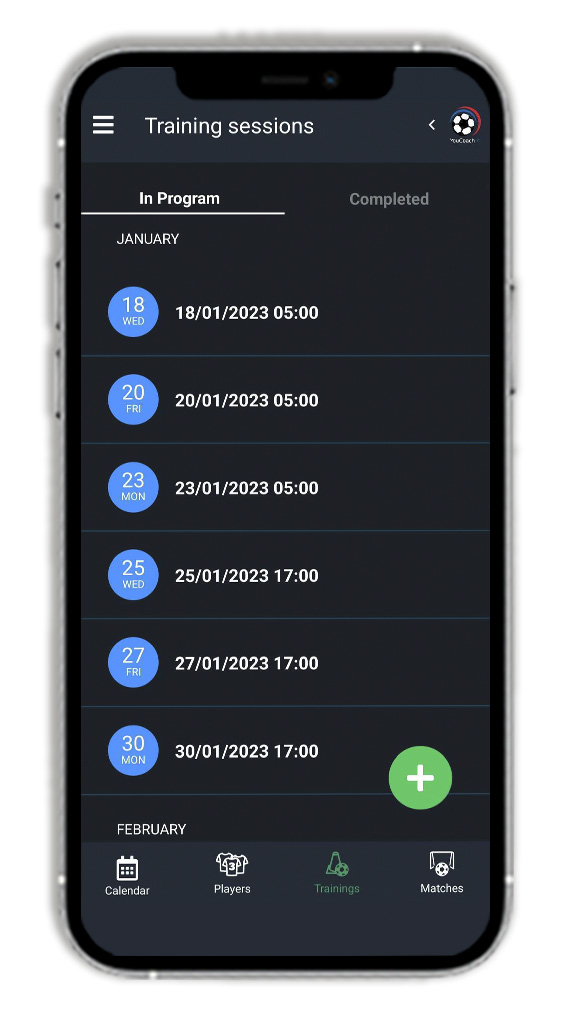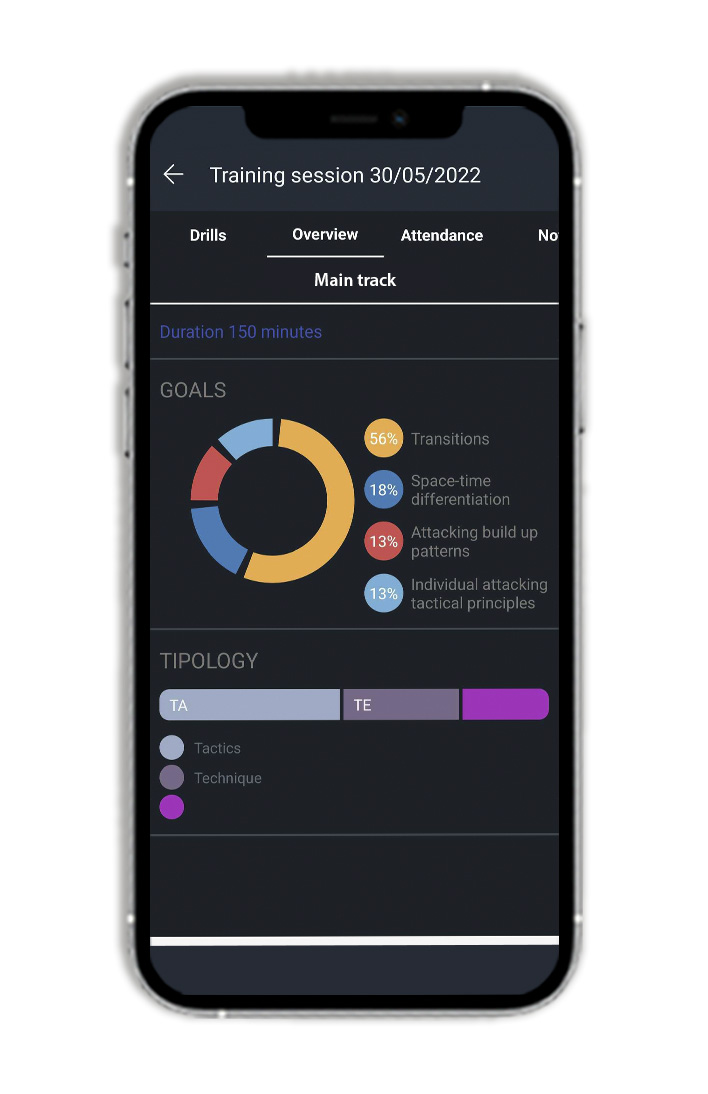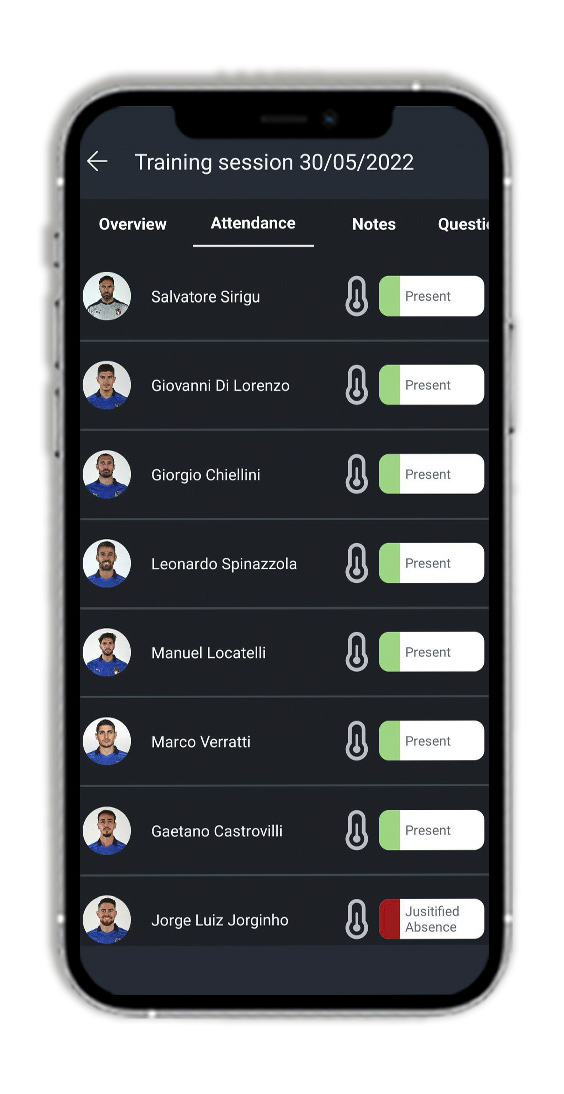 Bring with you your training session calendar, review your next soccer practice minutes before entering the locker room and record the attendance in just a few clicks!
After completing your weekly schedule and monitoring all training sessions, let's see how to monitor matches and what data one can analyze with YouCoachApp.
---
Study main events of your soccer season
A match is an exciting moment and shows the results of all the work you've done during the week. During a soccer match anything could happen and the events that occur during a game are many! Whether it's the coach or a staff member, it's important to record everything that happens to later analyze it. In this way it'll be easier to understand how to improve the team's performance. In order to analyze matches at best it's useful to look at statistics, in particular:
View detailed data about matches outcomes;
Analyze systems of play used during different matches;
Examine strategical positions and the dynamics that led to scored and conceded goals;
Read the event summary for each game.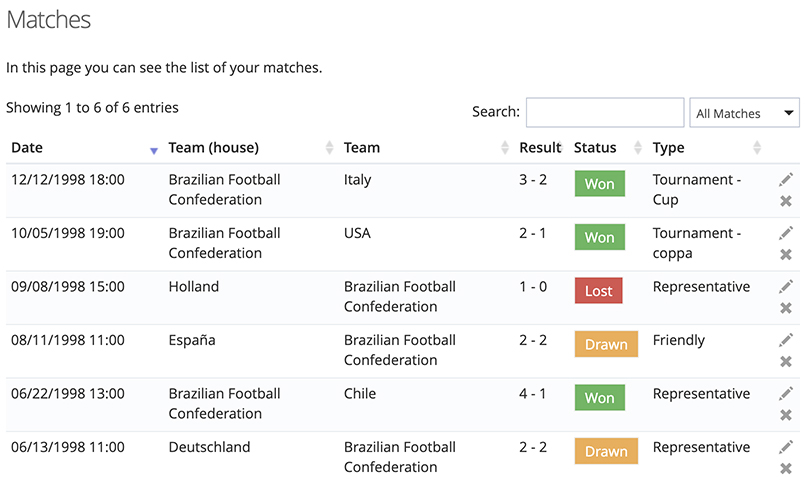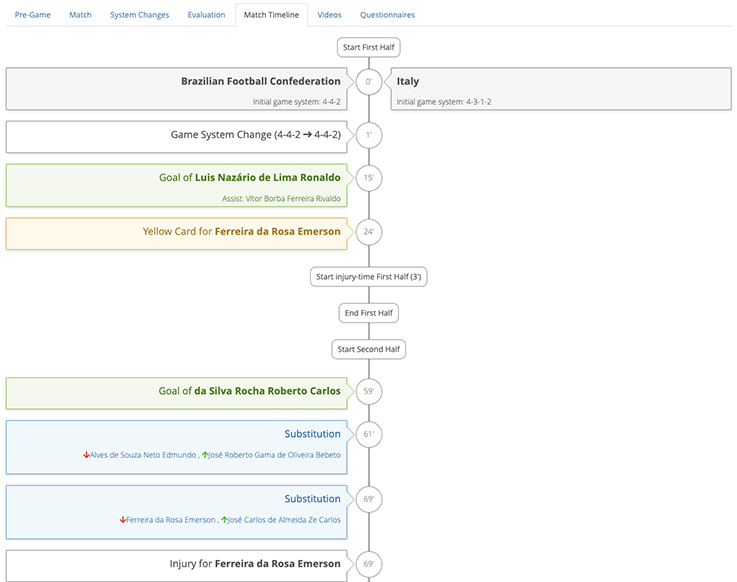 All season outcomes are summarized on a detailed screen. For each match you can view the highlights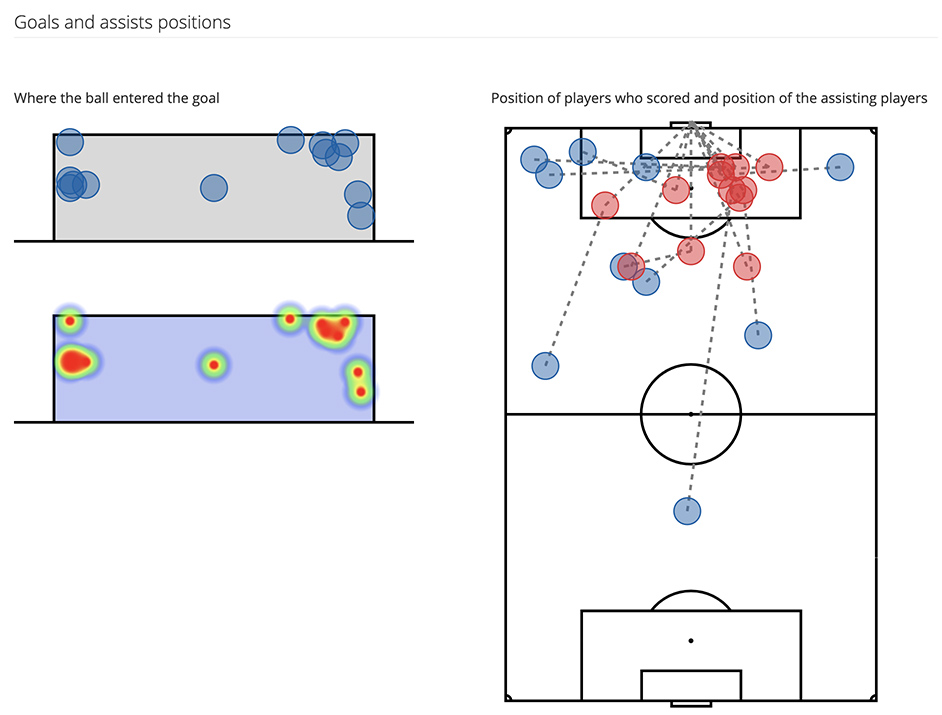 Thanks to YouCoachApp it is possible to examine in detail where goals are scored and conceded, and the "heat maps" graphics show it effectively!
Bring your passion always with you! You don't remember when's your next match? Don't worry... With YouCoachApp web and mobile you will be able to:
Access the list of matches whenever you need to;
Review your team's line-up;
Examine previous matches' highlights.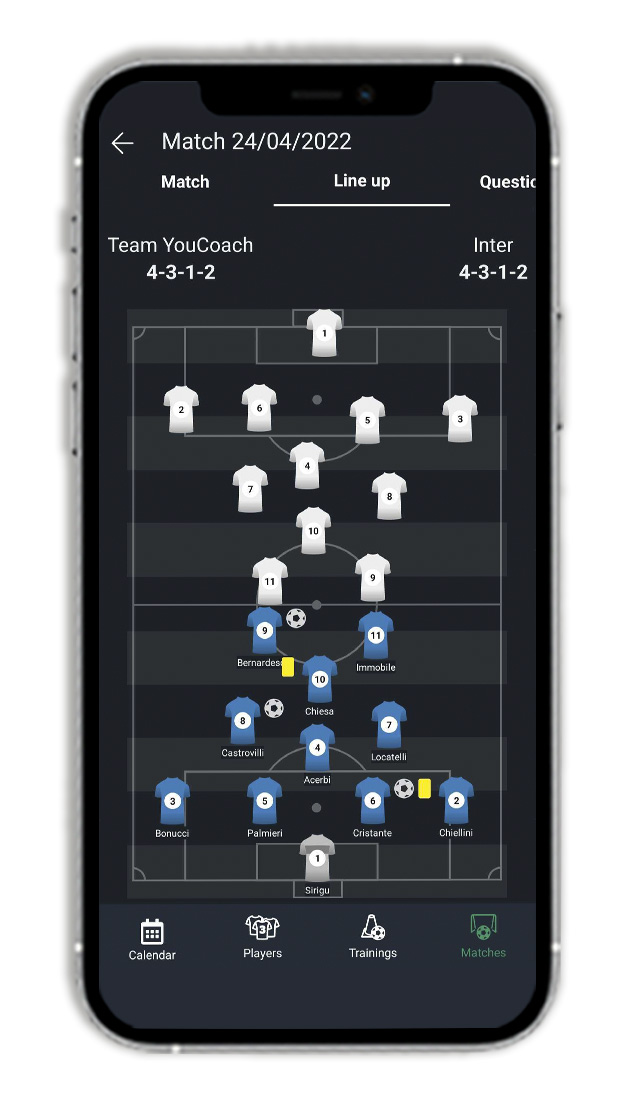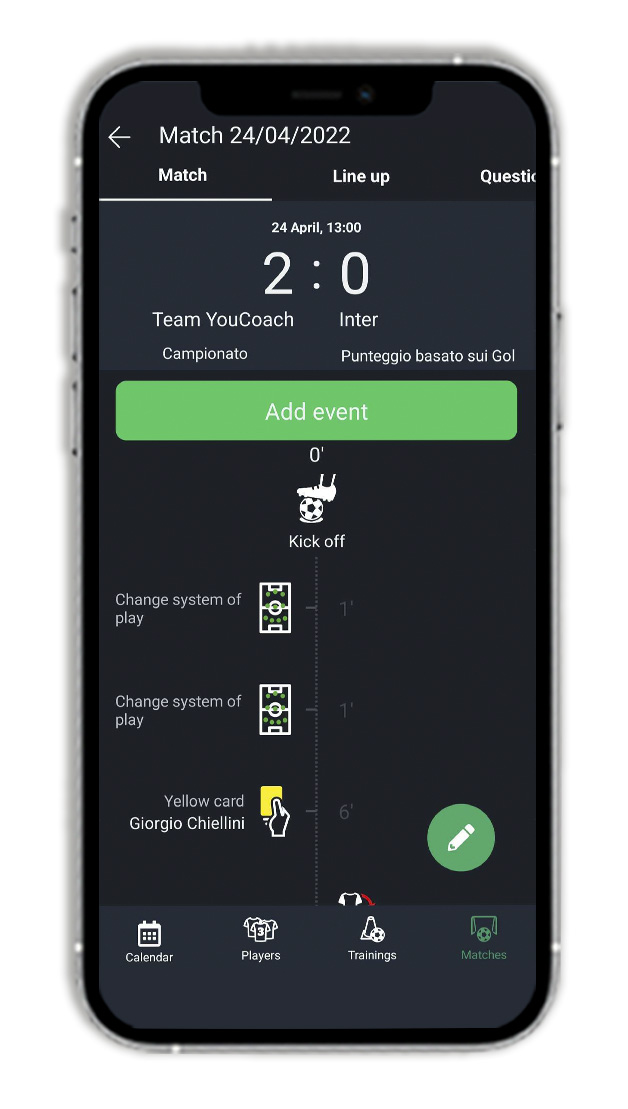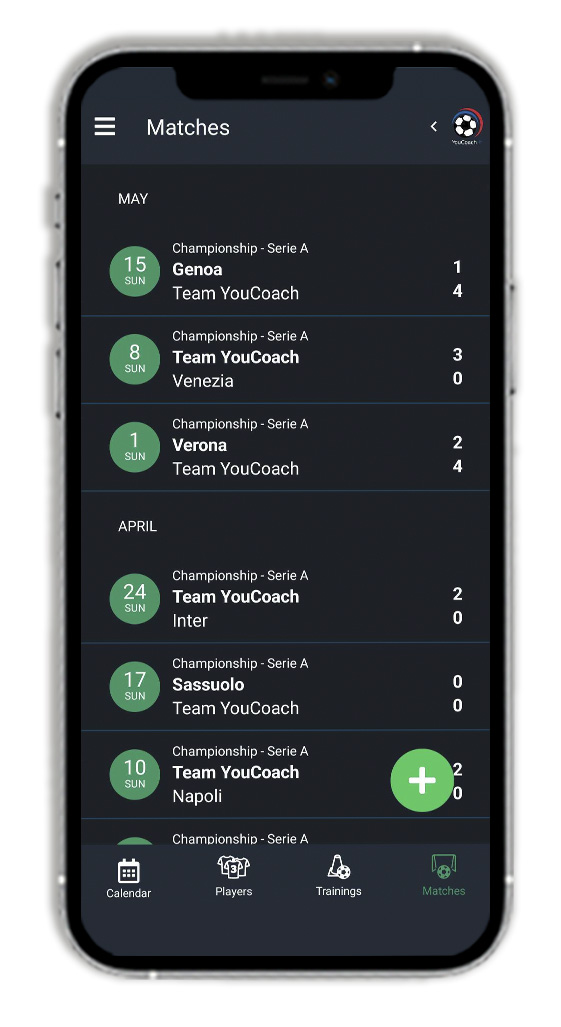 With YouCoachApp you can have access to all the data about your matches anywhere and anytime, even on the soccer field!
Now that we saw how to monitor training sessions and matches, let's see how to analyze individual players' data. The coach can verify each player's performance during the season, to help them improve.
---
Analyze data with accuracy and precision
Analyzing data about the team is useful to understand how the season is going as a whole, but sometimes it's better to look at the details. The coach often faces critical situations without reliable data on which to base their assumptions. Thanks to YouCoachApp it's possible to keep all details under control, up to a single player! Aggregated statistics about the team are automatically updated and you can dowload them as PDF; they offer an overview of the team's performance. You can also:
Analyze aggregated data for each phase of the season or type of match;
Investigate the same statistics for each player.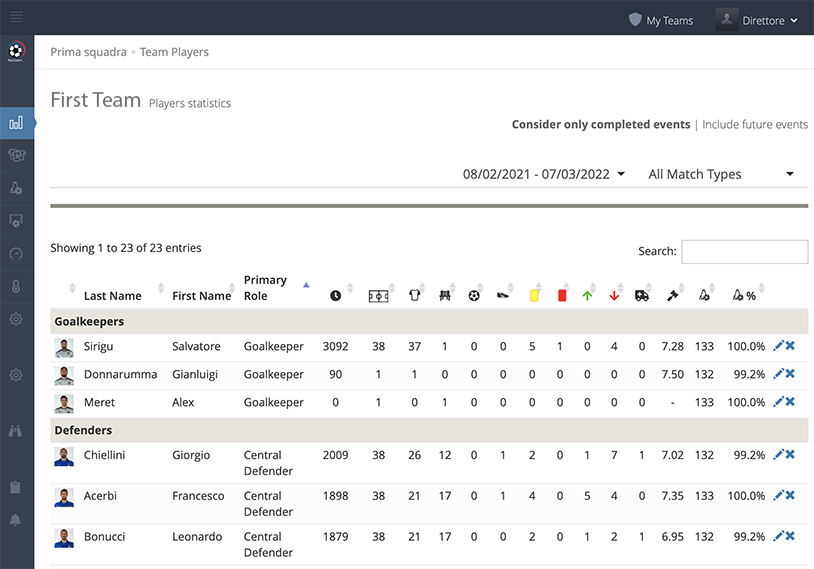 Players statistics are always available and are automatically updated each time a training session or a match are uploaded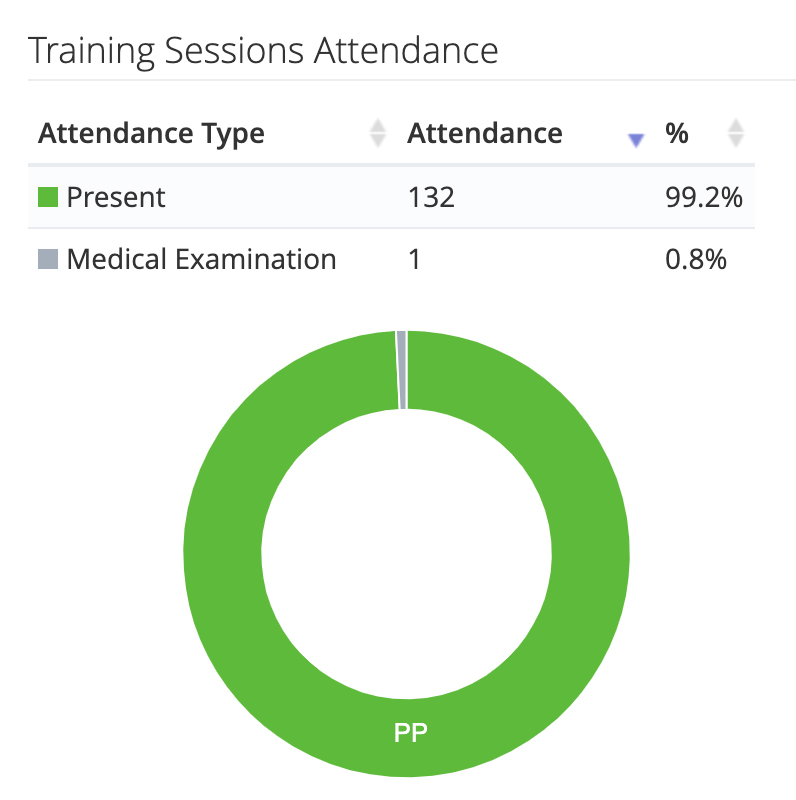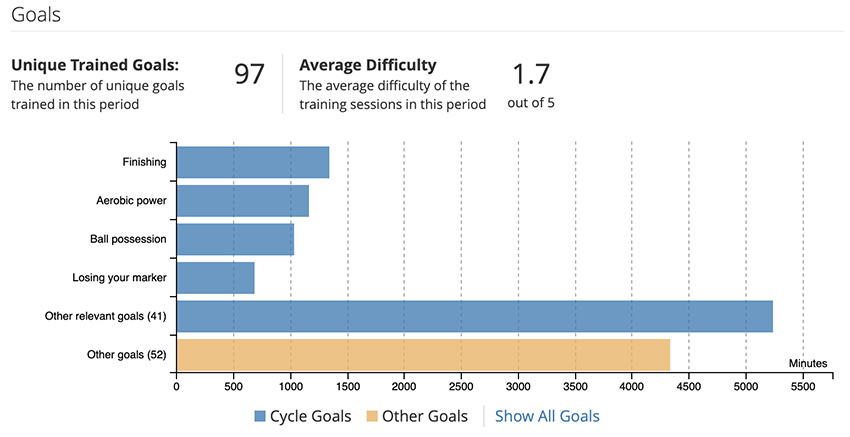 Each statistic can be examined on a single-player level. This picture shows an example of attendance log and trained objectives summaries. 
Data available for each player are many, but they allow the coach to have a complete overview of training session trends during the season. Thanks to YouCoachApp you can:
View an overview of a player attendance to learn their level of participation;
Examine a player's level of commitment by analyzing the statistics about each phase of the training session.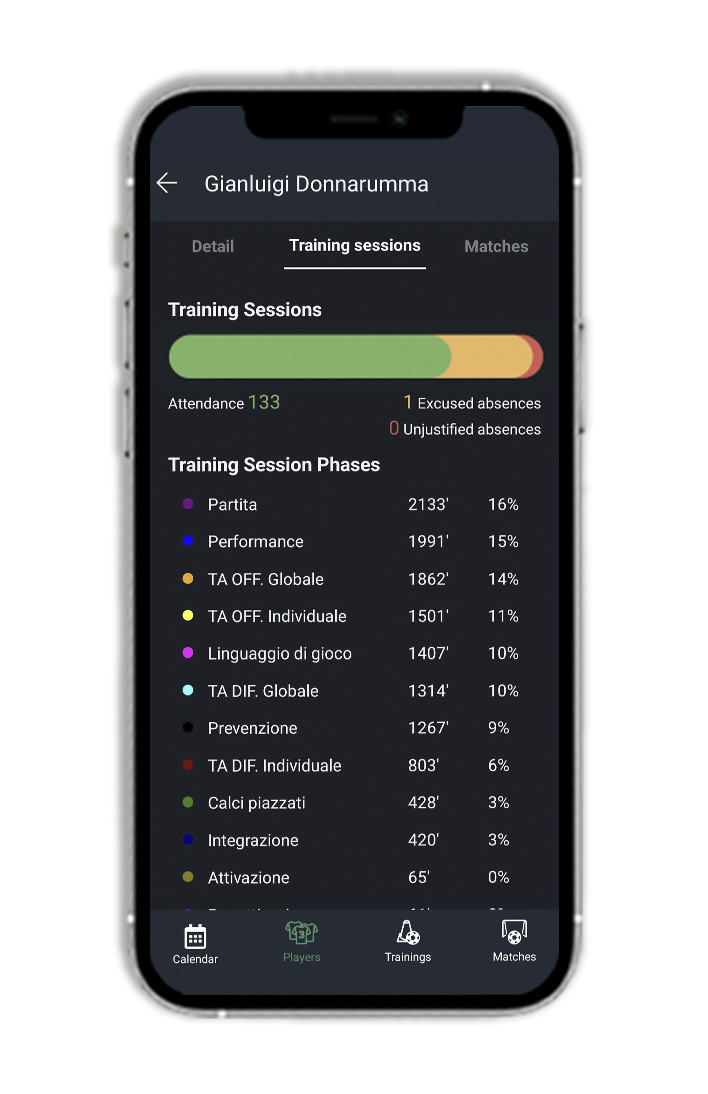 You can enter and analyze player's statistics from your smartphone!
Now we can move on to analyze performances. We'll see how to monitor the training load and the performance of the team and of each player. 
---
ANALYZE SOCCER SEASON DATA... IT'S EASY WITH YOUCOACHAPP!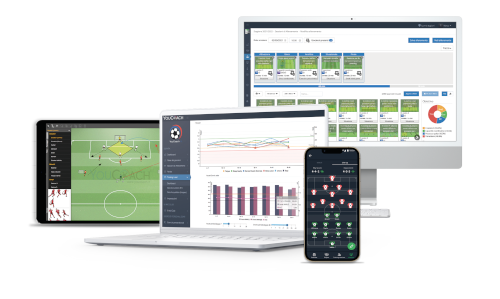 DIGITAL ASSISTANT FOR SOCCER COACHES
YouCoachApp is an innovative web application created to plan, set up and monitor the whole soccer season, an ideal tool for soccer coaches and Clubs, both professional and amateur.
It's available both as Web App and Mobile App.
Would you like to suggest YouCoach to your Club?