How to share your work with players: Engage with your team!
How to share your work with players: Engage with your team!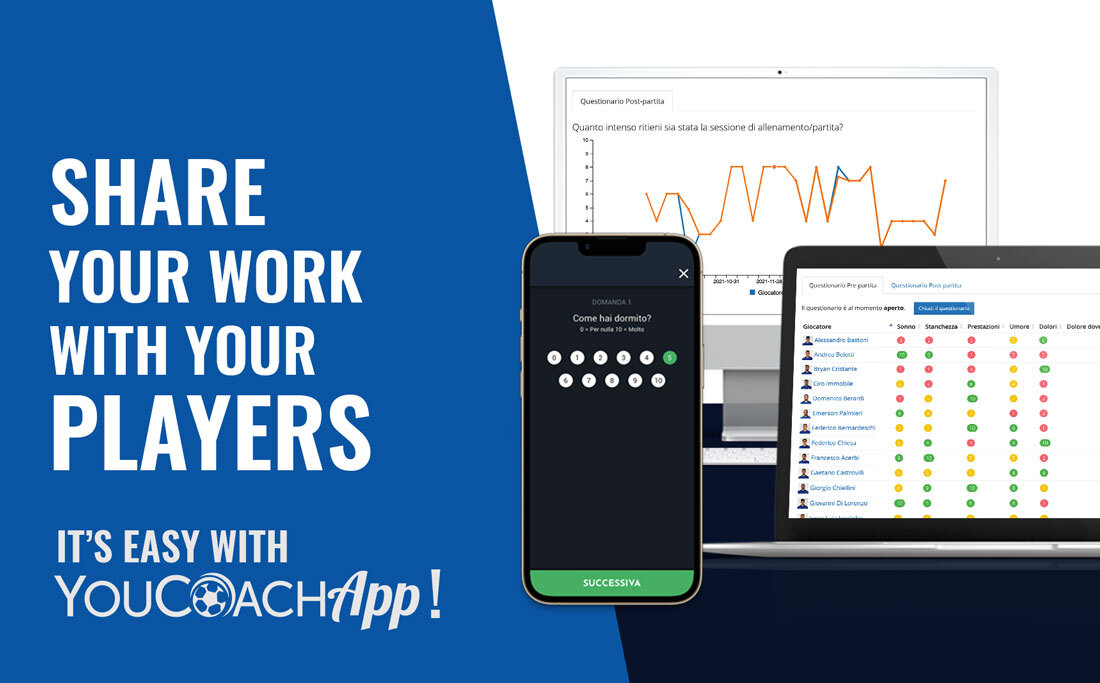 Summary
It's easy with YouCoachApp! Share your work with your players and keep them posted on their performance, training sessions and scheduled matches.
Have you ever thought that sharing your training session's drills the day before could be useful? And how do you keep your team up to date with upcoming events (soccer practices and matches) without getting lost between e-mails, messages and group chats? How long does it take you to collect attendance, statistics and evaluations for each player? 
We have the answer: it's easy with YouCoachApp!
---
HOW TO ENGAGE AND SHARE WORK WITH YOUR PLAYERS
To get your players involved in training sessions management and to keep them updated with drills and the events on the agenda you need to follow these few steps, all using one tool that has been designed for soccer coaches like you:
---
Get in touch with your soccer team
After giving access to your players, they will be able to use YouCoachApp directly from their smartphone and help by filling out their own personal profile data, or you could collect important information about their state of health and level of fatigue. Give players specific permissions and share with them important information, such as:
how to edit personal data;

the training sessions' schedule and the event calendar;
how to view evaluation forms about them; 
how to view a summary of their personal statistics.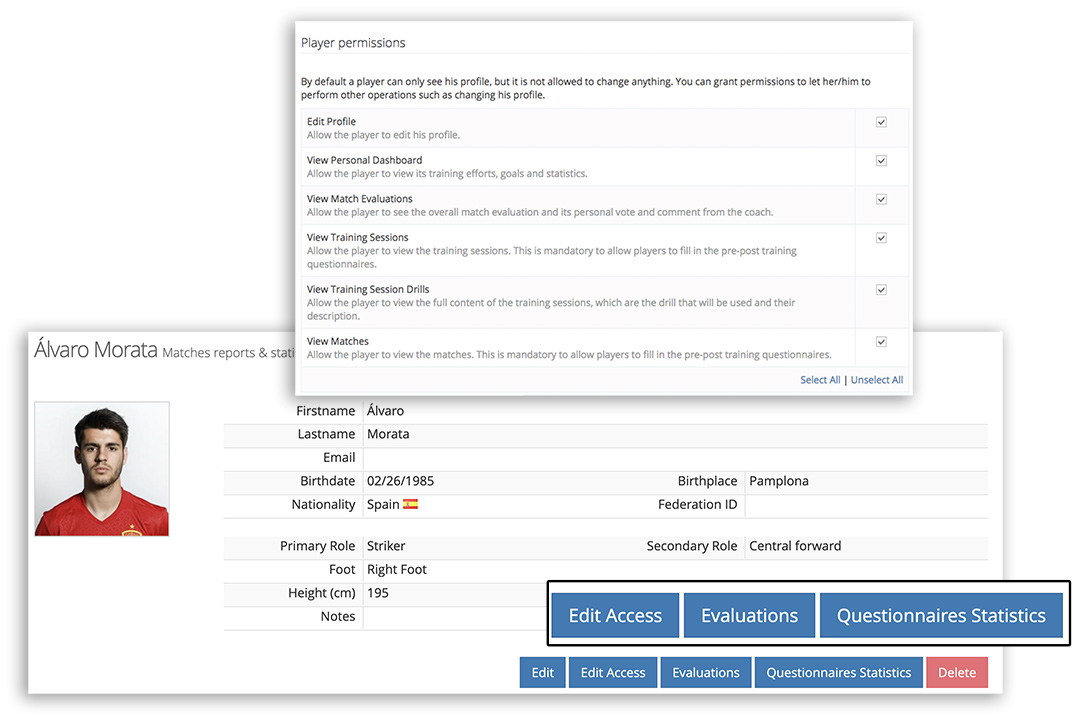 The coach can decide which editing and viewing permissions to give to each player
Every player can have different permissions: you can choose who can view statistics and who can't. Team captain can read the attendance list but the player on loan can't... it's the coach who decides!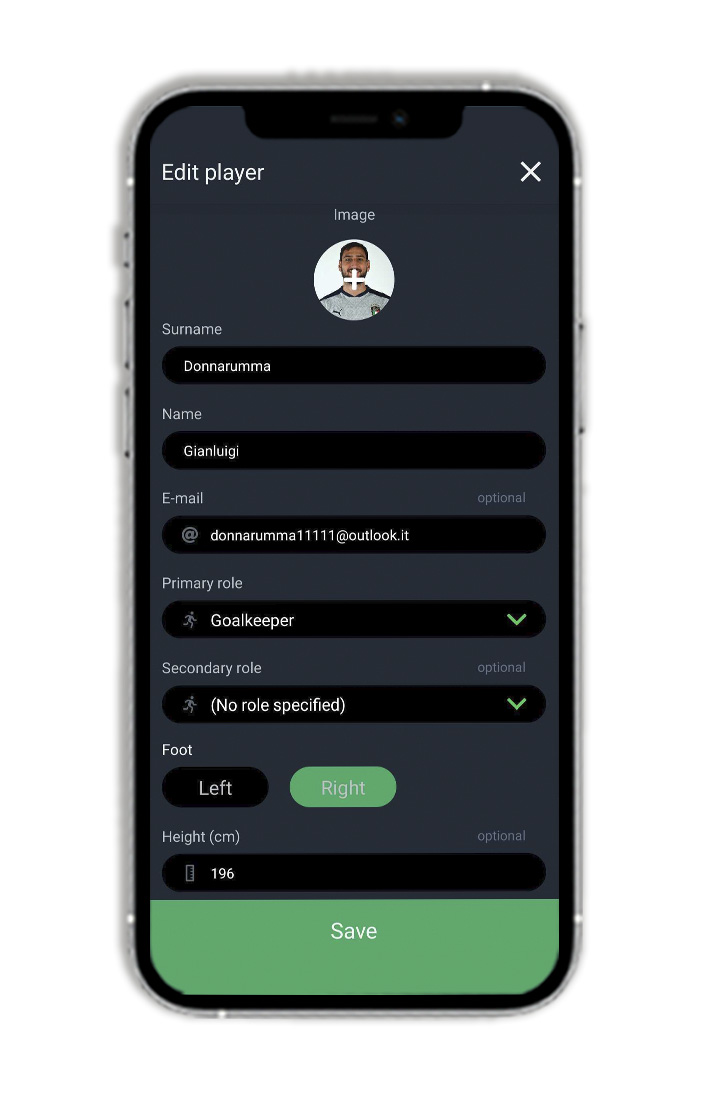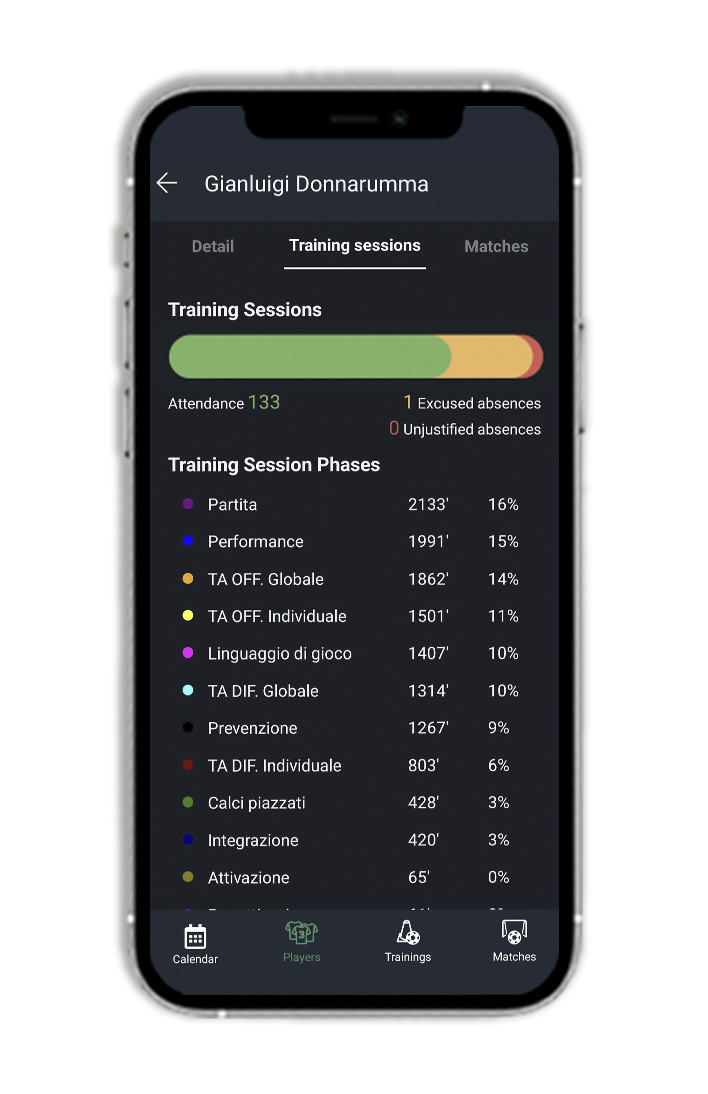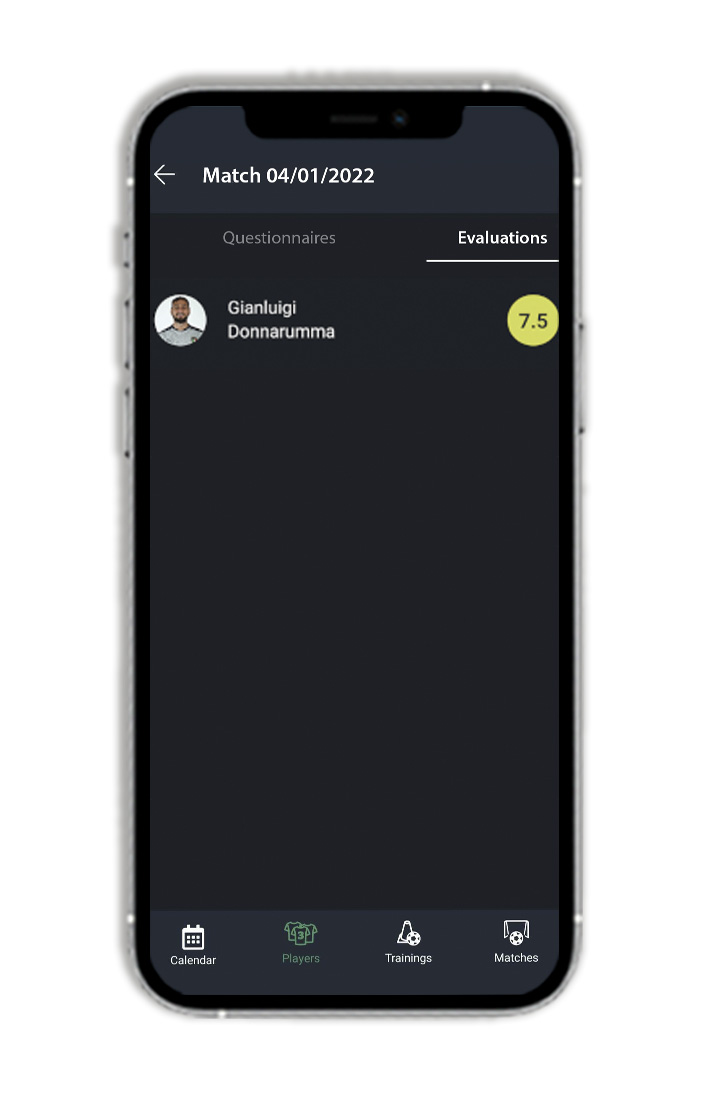 YouCoachApp Mobile is designed to facilitate sharing: personal data, statistics, training sessions and evaluations... everything in one app!
Every player can access from their smartphone to all the app's features their coach has given permissions to read, edit, fill in. Also, they can answer pre- and post-workout/match questionnaires and enter data for Hooper and TLm. 
---
COLLECT IMPORTANT DATA THROUGH QUESTIONNAIRES
Collect important information directly from players
Pre-workout and pre-match questionnaires are important tools for monitoring the performance and fitness level trends of the team. With YouCoachApp you can create custom questionnaires and keep track of these elements during the whole season. Here is what you can do to make the most of these questionnaires: 
Enable questionnaires to make them active before or after every training session or match;
Customize them with open-ended or multiple-choice questions, as per your need, or you can use the preset template;
Consult the answers for each match or training session, for one player or the whole team, and confront them during time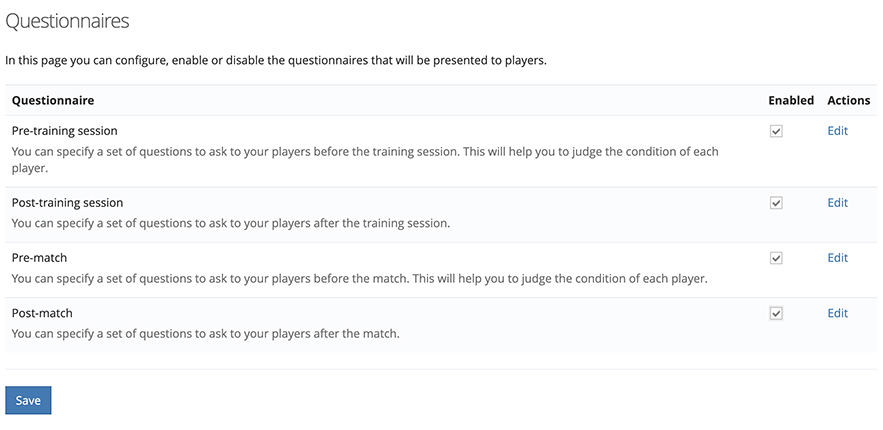 Choose which questionnaires to use and which to make available to your players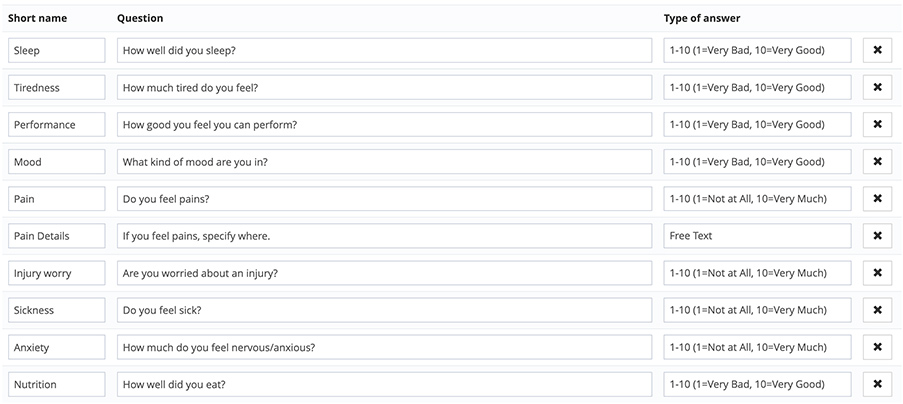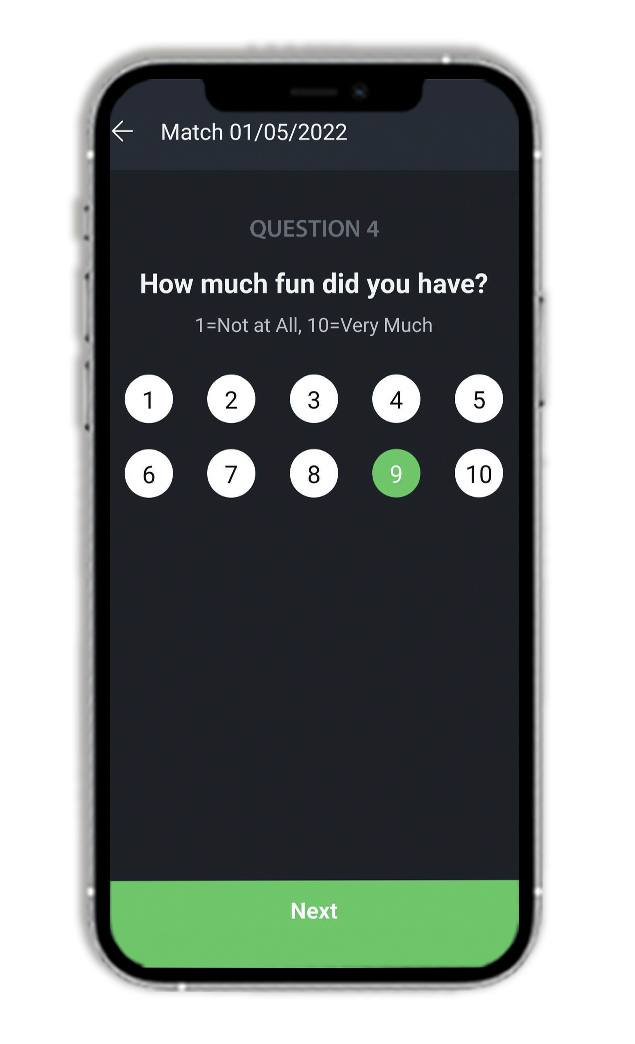 You can create custom questions and engage with your players directly from the mobile app 
All data is filed and made available on the app, so you can monitor answers' trends during the season.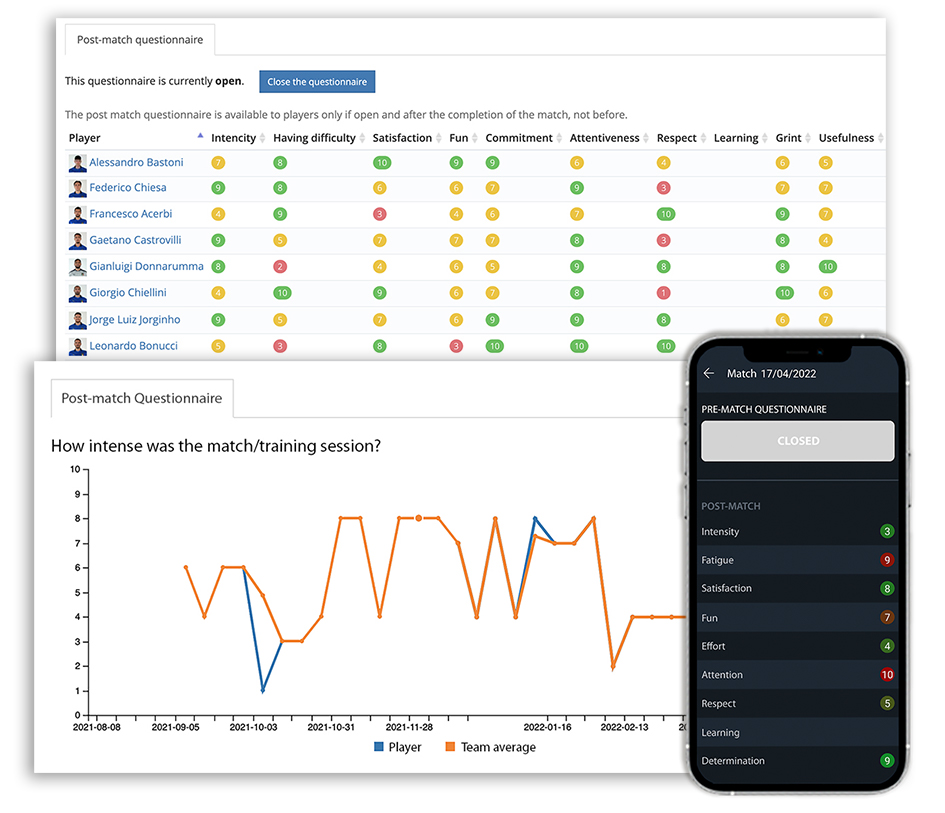 Get detailed stats of each questionnaire (pre and post-match/workout) and monitor trends during the year
With the TLm feature you can collect Training Load and Hooper test data to evaluate the team's fitness level. Here is what players can do: 
Enter their Training Load directly from their smartphone
Answer Hooper questionnaire from their smartphone.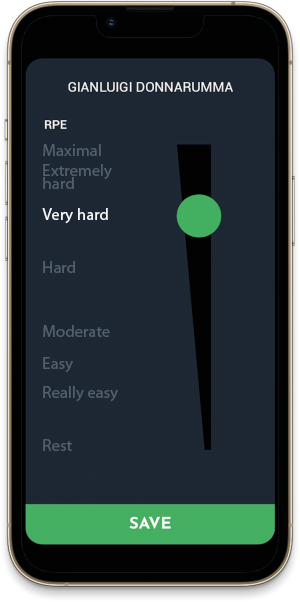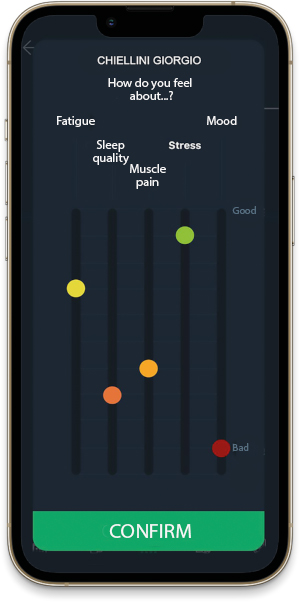 By collecting RPE and Hooper data, you will be able to constantly monitor your team's fitness level and performance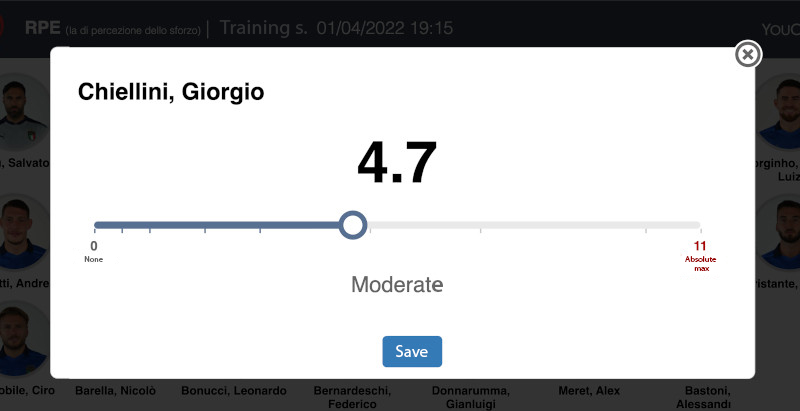 Now let's move on to training sessions. With YouCoachApp you can share training sessions and drills before a soccer practice, so you can give players a preview of the workout and engage the team. 
---
SHARE TRAINING SESSIONS AND DRILLS
The soccer pitch is at your players' fingertips
As showed above, it's easy to share important data with players, but what's more important than the training session? With YouCoachApp you can share each scheduled training session and drill with your players, simply using YouCoachApp. Every player can view them on their smartphone.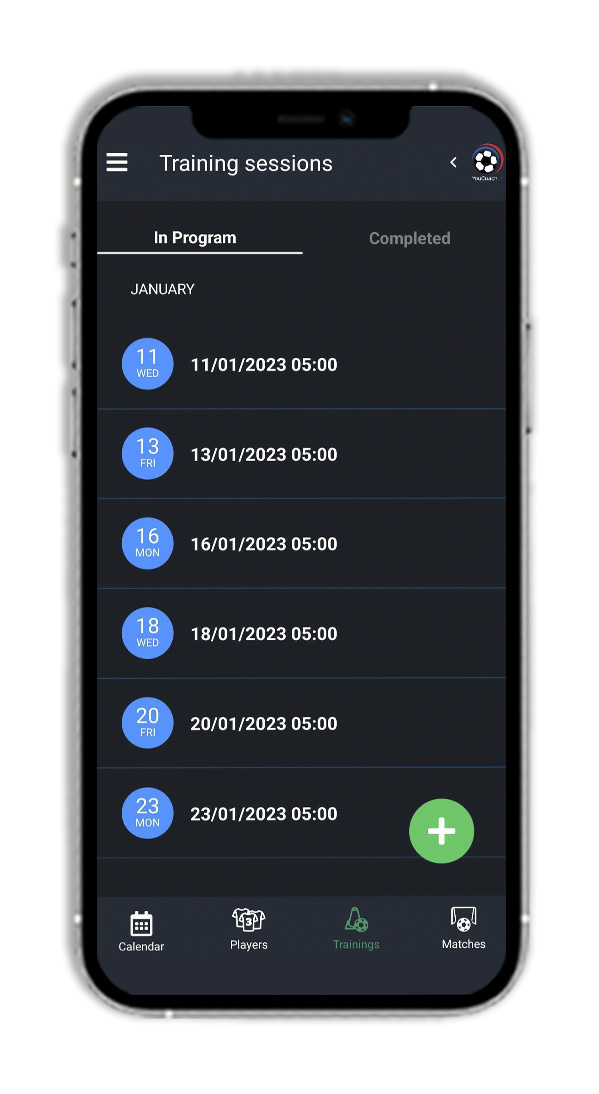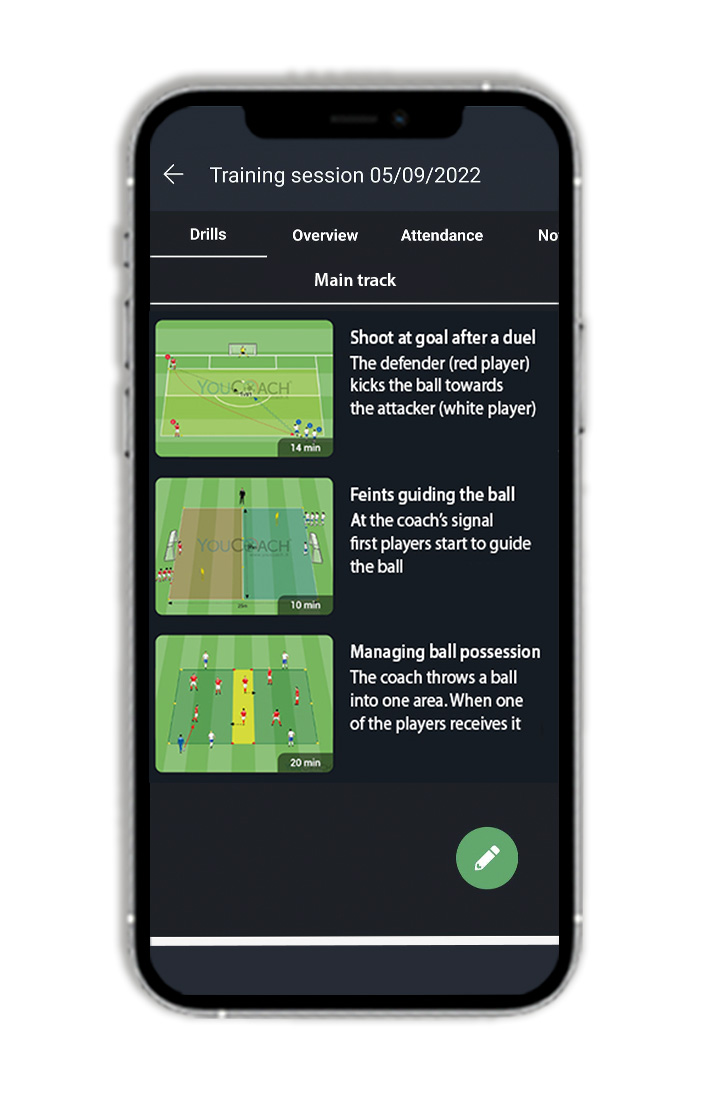 By clicking on one training session, it's possible to view the list of drills scheduled for that specific workout!
Engaging your players and sharing your work with them has never been easier! In the next article we'll see how to analyze and monitor the season to keep everything under control. 
---
ENGAGING AND SHARING YOUR WORK WITH THE TEAM... IT'S EASY WITH YOUCOACHAPP!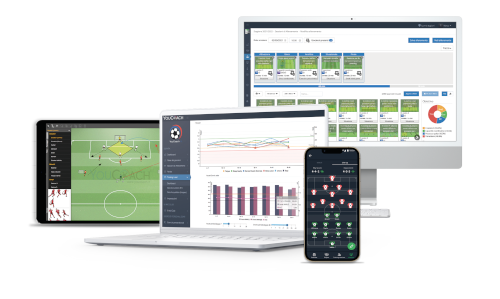 DIGITAL ASSISTANT FOR SOCCER COACHES
YouCoachApp is an innovative web application created to plan, set up and monitor the whole soccer season, an ideal tool for soccer coaches and Clubs, both professional and amateur.
It's available both as Web App and Mobile App.
Would you like to suggest YouCoach to your Club?