Physical course- Chelsea FC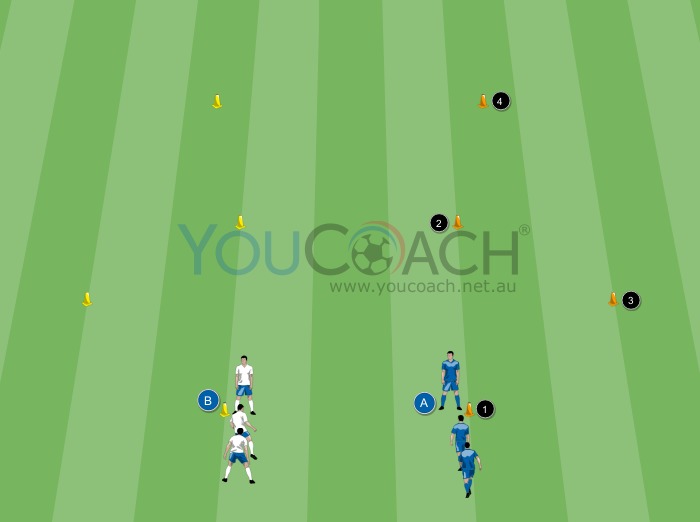 Playing Area: 25x20 meters
Players: 18
Running time: 10 minutes
Series number: 2 series of 4 minutes interspersed with 2 minutes for active recovery ( egg. dribbling in pairs)
| Summary | Secondary Objectives |
| --- | --- |
| Useful exercise with the ball to train both agility and speed | Speed |
Organization
Within the playing have 2 cones (identified with numbers from 1 to 4) creating a line 25 meters long. Along the line just formed, place the cone 2 to 10 meters far away from the cone 1. In the middle between cone 1 and cone 2, and 5 meters to their right place cone 3, as shown in Figure. Repeat the same arrangement symmetrically, creating a second course Divide the players into 2 groups (A and B), flanking them to the respective cones.
Description
At the start of the coach, player A starts, running backwards, from cone 1 to cone 2
Once arrived to the cone 2, the player turns around and runs at high knees (high knee raises) up to the cone 3
Player A, out of cone 3, runs at maximum speed towards cone 4
Once turned around cone 4, A ends the exercise running towards the starting cone of group B
The exercise is carried out simultaneously in both courses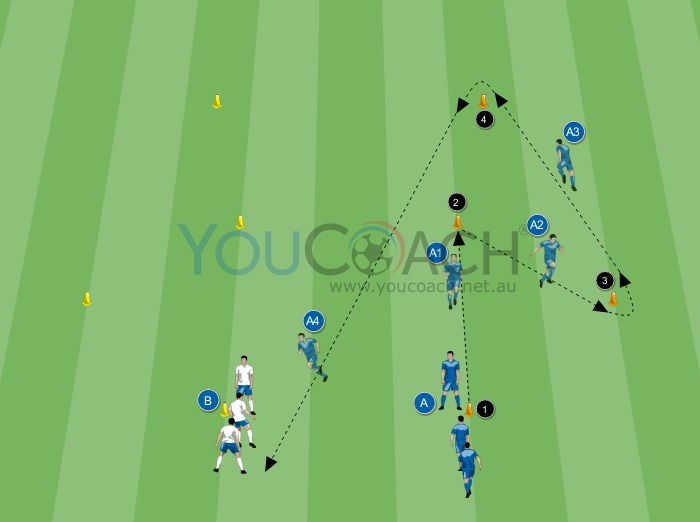 Variations
Perform other types of running in the circuit, such as race kicked back, running side-kick, high knee raises down, etc...
Coaching Points
The exercise is useful also as warm up
The exercise should be done at a steady pace