Circuit for technical and coordination development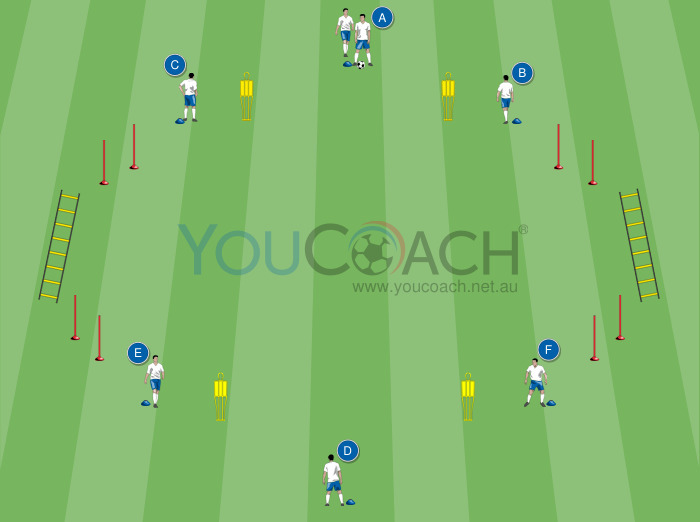 6 markers
4 silhouettes
8 poles
2 speed ladders
Balls
Playing Area: 25x25 meters 
Players: at least 7
Duration: 15 minutes
Series: 4 of 3 minutes each with 1 minute of passive recovery inbetween 
Organization
Place the equipment as shown in the picture and place players next to the markers. Player A starts with the ball. 
Description
To the coach's signal, player A passes the ball to B
B gives it back to A and moves behind the silhouette to lose the marker 
A passes to B to close the one-two movement
Player B passes to C and then moves behind the silhouette
C gives the ball back to B to close the one-two movement
At the end of the action between these 3 players, B verticalizes towards D
D creates the same sequence with E and F but in the opposite direction (movements 7, 8, 9)
The player who verticalizes starts the coordination circuit with a slalom on the poles and then a run on the speed ladder; this player then goes to the opposite side of the pitch.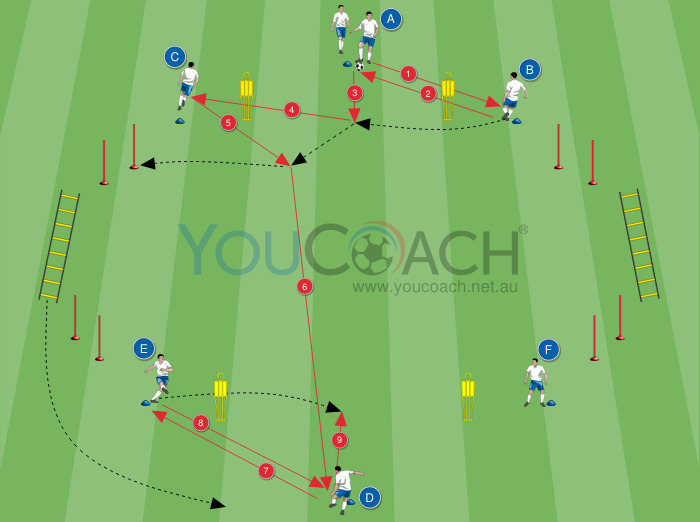 In order to perform this drill correctly, there should be at least 7 players.
During the first series players have two ball touches, but later on they have only one. 

Coaching Points
Encourage players to perform the circuit at maximum intensity in spite of precision 
Players should be sinchronized with the ball 
Let the players choose the foot to use during passes