Small-sided Game - 6 against 6 and 6 flex players - Chelsea FC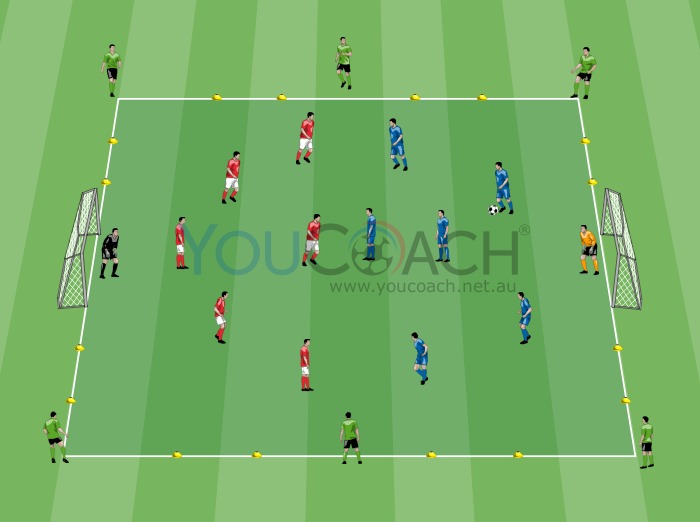 16 markers
12 vests, 6 of one color and 6 of another color
2 regulatory goals
Balls
Playing area: 40x30 meters
Players: 18 + 2 goalkeepers
Duration: 21 minutes
Series: 3 series of 5 minutes with a 2 minutes pause of passive recovery
Organization
In the chosen area of the pitch, make a playing area of 40x30 meters. Place 2 regulatory goals in the center of the short sides of the pitch. Make 8 goals of 3 meters using the markers and place 2 of them on each of the sides (As shown in the picture). Divide players into 3 teams of 6 players each using the vests. Two teams start from the inside of the pitch. The other 6 players (Flex players) from the third team go each of them between the two respective goals along which they can move (See picture).
Description
The exercise includes a thematic match of 6v6 adding 6 flex players along the 4 sides of the playing area
The team that possesses the ball to be able to finish the action more easily can be supported by one of these flex players to create a situation of numerical superiority (Example in the picture)
At the end of the series the winning team will be the one that scores the most goals
At the end of each series teams swap with the flex players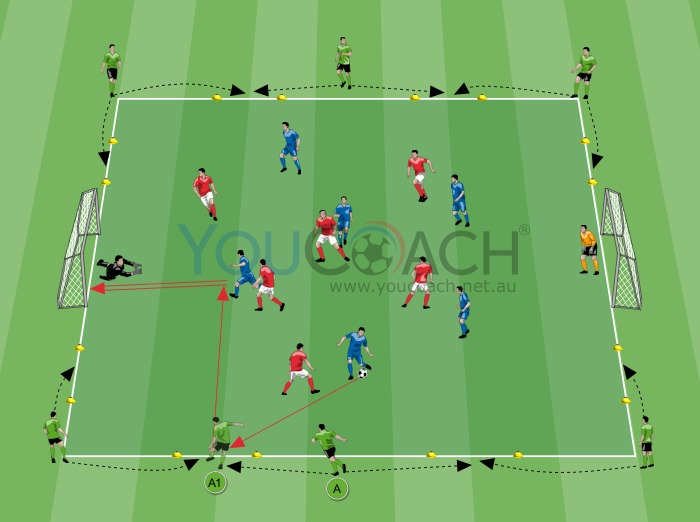 Rules
The flex player can only go to the goals on their left or on their right
The exchange between inside players and flex players is only valid if the pass goes through one of the goals
The flex player can only touch the ball a maximum of 2 times
If the flex player assists a goal it is worth 2 points
When the ball goes out the the pitch without going through the goal, the flex player starts playing the ball with the team that is waiting for the ball possession
Variations
Teams inside the pitch play attacking and defending all of the goals. The action always starts from the goalkeeper
Coaching Points
Useful exercise to train players on unmarking and positioning in such a way that they can receive the ball
Encourage the team that possesses the ball to look for the flex player in order to develop a situation of numerical superiority
Encourage the team to keep a high rhythm to avoid giving time to complete passes
During the exercise, verbal communication is very important between teammates.