Juventus-Bayern Monaco, Champions League. Tactical analysis and comparison of play behaviours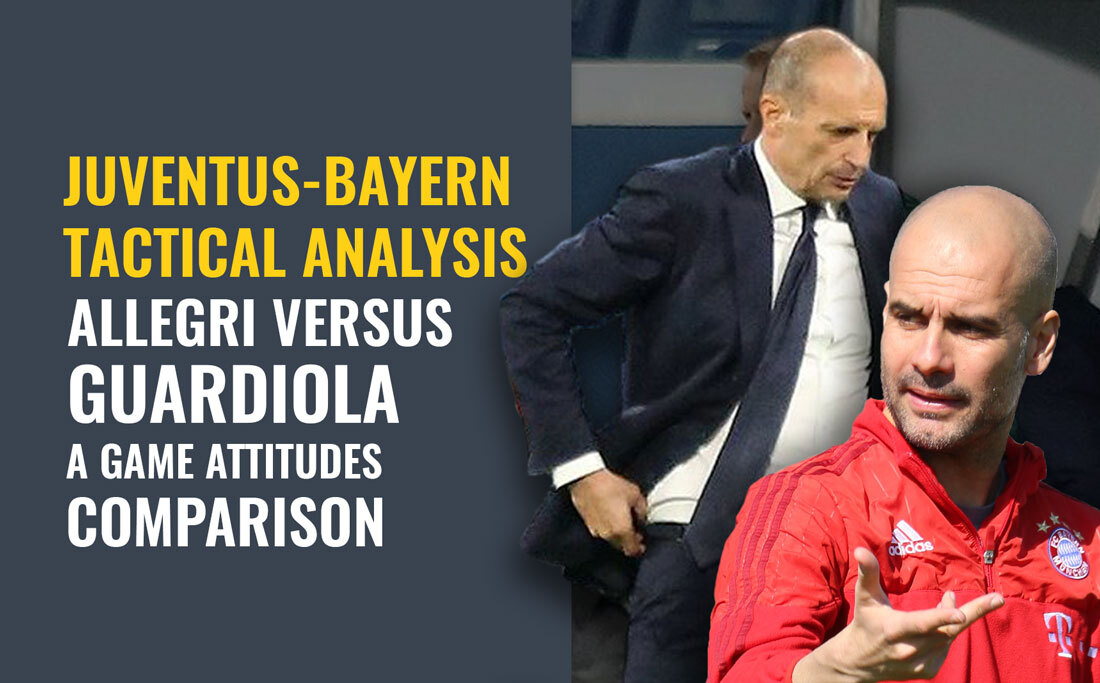 Comparison of the play behaviours of Juventus and Bayern: Juventus attacking depth and defending width, and german players attacking width and defending depth
Guardiola: "Juventus likes to attack depth and defend width, we like to attack width and defend depth…". 
Pep Guardiola's interview at the end of the match is still being echoed in the media today. The Spanish coach's evaluation of the match arrives before the final score. Considerations on physical preparation, episodes and performance. Much to talk about. In particular, we are going to consider Bayern's average formation center every 10' and verify with Mister Guardiola whether his assertion is true throughout the match.
5'. Ball to Chiellini. Bayern's barycentre in the first 5' is marked by the yellow line, like in the next figures. As usually, Bayern clusters in the ball zone and closes many side passing lanes. In this situation Juventus' defender will pass the ball to Buffon to make it circulate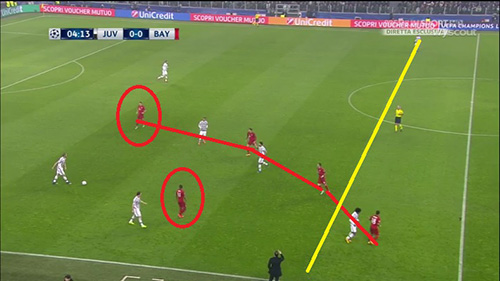 Bayern's relative barycentre in these 5' is very high. Juventus defends very well and keeps tight with their three lines lined up perfectly.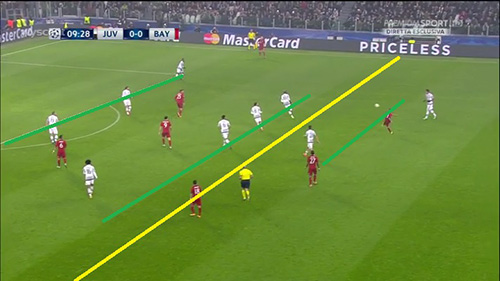 20': Bayern's relative barycentre is always very high and Juventus attack exploiting width. In particular Cuadrado and Lichtsteiner strongly attack free spaces of the German team that has grouped as usual with 6 players beyond the green line (dividing line between the strong and weak sides)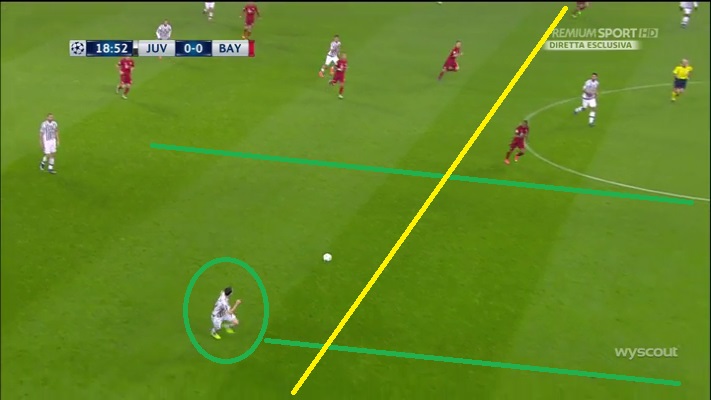 30': The score is still 0 to 0. Bayern's barycentre is always very high, excellent position of Juventus that defends low.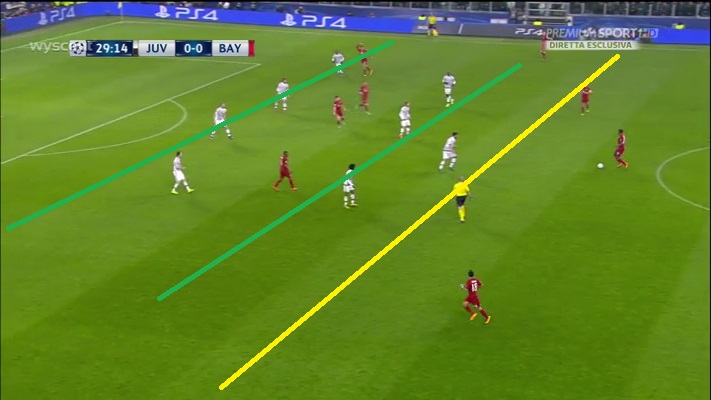 40': Pogba passes over his direct opponent  and attacks the German defensive line frontally. Dybala and Mandzukic seek the depth. Excellent attack of depth and excellent defensive play of this space by the German team.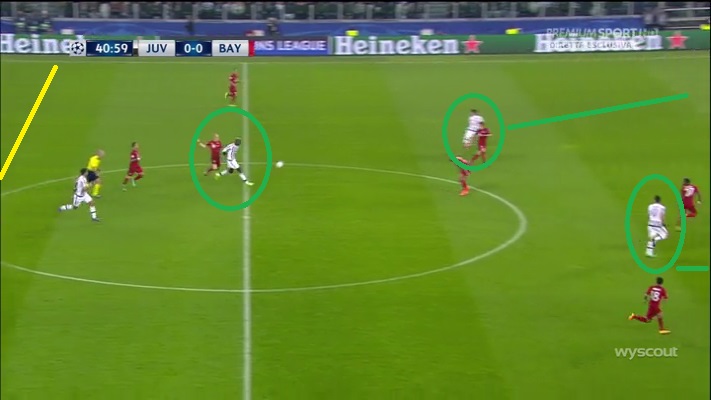 50':The second half begins with Guardiola's team winning by 1-0 and unchanged strategies. High Bayern's relative barycentre and excellent defence of the short space by the host team.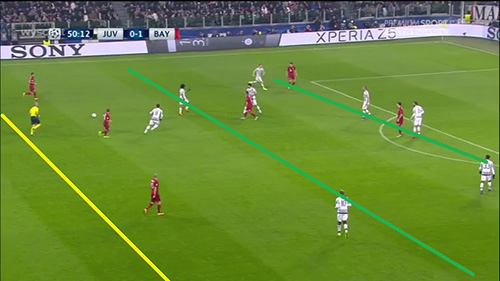 60': 2 to 0, Bayern, and unvaried situation. Not only, in these 10' we have the highest German relative barycentre of the whole match.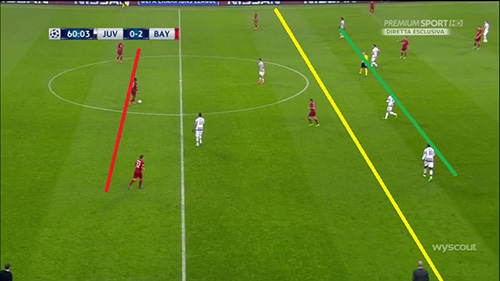 70': Juventus score with Dybala. Again, Juventus attack into the depth. Cuadrado breaks the German pressing and sees Dybala and Mandzukic in the space. Bayern's relative barycentre is implacably high.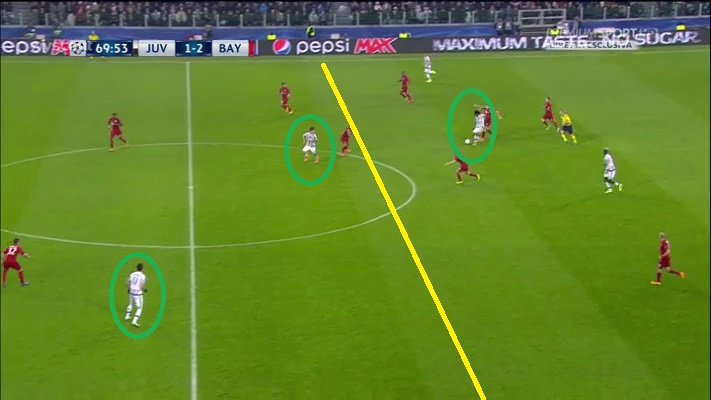 80': Sturaro equalizes 2 to 2 and something changes. Bayern keep continuous and fairly high possession (in the situation attacking German 3v3), but the relative barycentre is a bit lower: always beyond the half of the field but lower because they are not able to have the same number of players attacking into the short space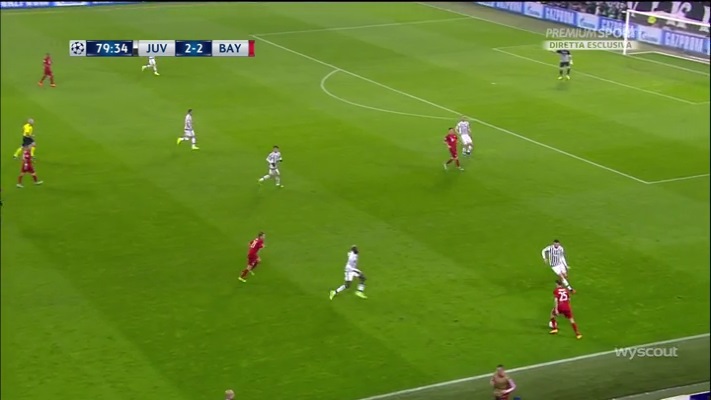 90': The lowest German relative barycentre of the whole match. Many red players below the halfway line and too many black and white players beyond the line: similar situation during the whole match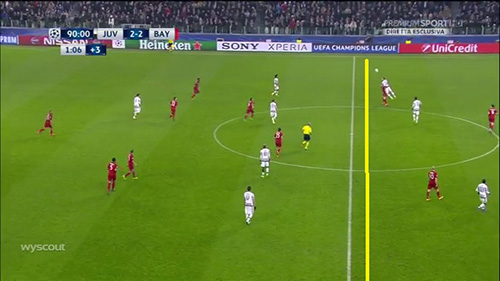 Finally Guardiola's sentence is certainly true. The relative barycentre of Bayern is very high and lowers only during the last 10 minutes. The German team manage the ball possession pressing the home team to the box. Juventus accepts willingly theGerman strategy to attack the depth.
---
Photo Credit: Wikimedia Commons