Passing circuit with losing marker movements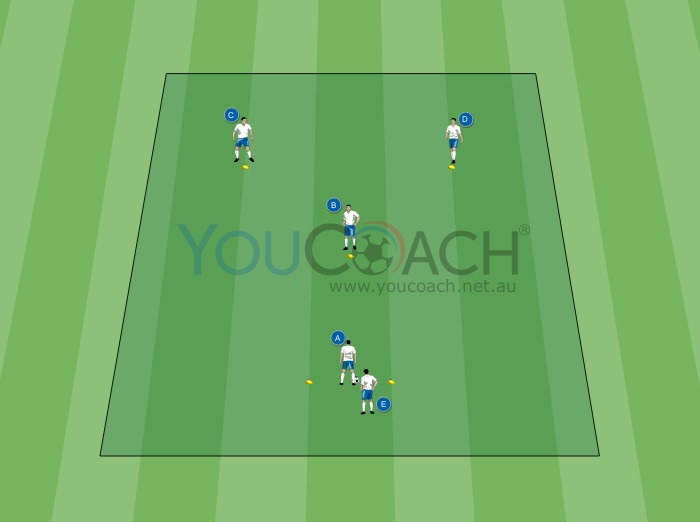 5 markers
Sufficient balls to ensure continuity
Playing area: 15x15 meters
Playersi: 3
Duration: 12 minutes
Series: 2 series of  5 minutes with 1 minute of active recovery (ex. kick ups)
Organization
Create a 2 meters small goal inside the playing area using the markers. Arrange the group of players inside the small goals and player A starts with the ball. Place a marker 5 meters away from the small goal and place player B near the marker. Place 2 markers for players C and D, 10 meters spaced and 5 maters away from the first marker.
Description
Player B starts behind the cones and moves wide creating a passing line
Playere A passes the ball to teammate B
Player B performs an oriented control while C moves from his marker running backwards
Player B passes the ball to player C moving to lose his marker
Player C performs a flank play on first intention for teammate B encountering
Player B completes the give and go passing back to C on first intention
Player C passes on first intention to teammate E across the small goal
Player E repeats the passing sequence together with A and D. Repeat the exercise during the whole two series.
Rotation of players during the passing sequence:

A replaces B after passing to him
B replaces C after the give and go
C moves to the group after passing across the small goal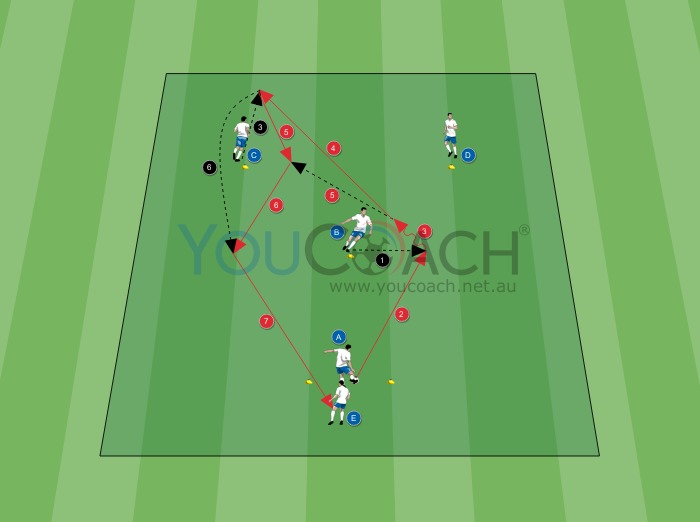 Coaching Points
Keep on moving to be ready to receive the pass
Precision in passing 
Encourage players to maintain a high concentration during the exercise to improve technique
Rotation between players must be dynamic