Small-sided Game 4 vs 4 + supports: keeping the position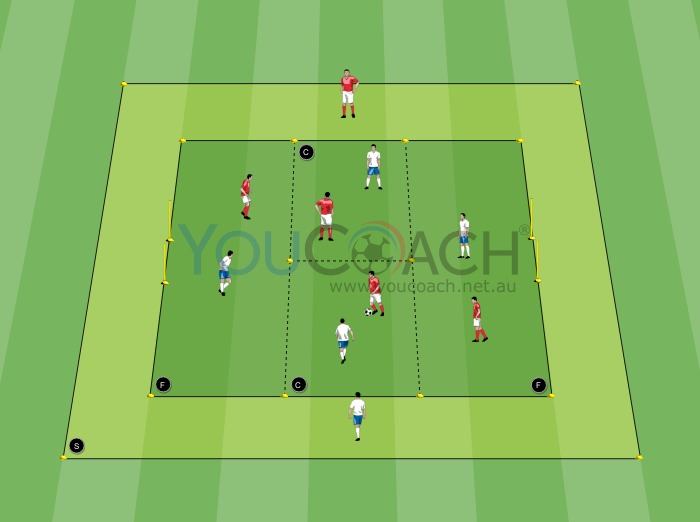 14 markers
4 poles
Sufficient balls for continuity
5 vests
Playing area: 20x15 meters
Players: 10
Duration: 15 minutes
Series: 4 series of 3 minutes with a 1 minute pause of passive recovery
| Summary | Secondary Objectives |
| --- | --- |
| A thematic match that trains the position in the pitch and the team's passing skills | Feints and tricks, Pass |
Organization
Divide the central pitch into 4 areas:
Two finishing areas of 15x15 meters up and down (F)
Two central areas 5x5 meters (C)
Along the whole perimeter there should be a support strip of 2,5 meters (S)
Create 2 goals of about 2 meters using the poles on the outer sides of the areas (F)
The team is divided into 2 groups of 5 players using the vests. One player per team goes to zone S and plays as a support. The other players are divided in the 4 zones "C" in pairs one per team (As shown in the picture).
Description
The objective is to develop a ball possessio (Executin at least 6 consecutive passe) avoiding opponents
At the end of the 6 passes players can shoot to goal
In each series swap positions so that they all get to play as supports and inside the zones ("C" and "F")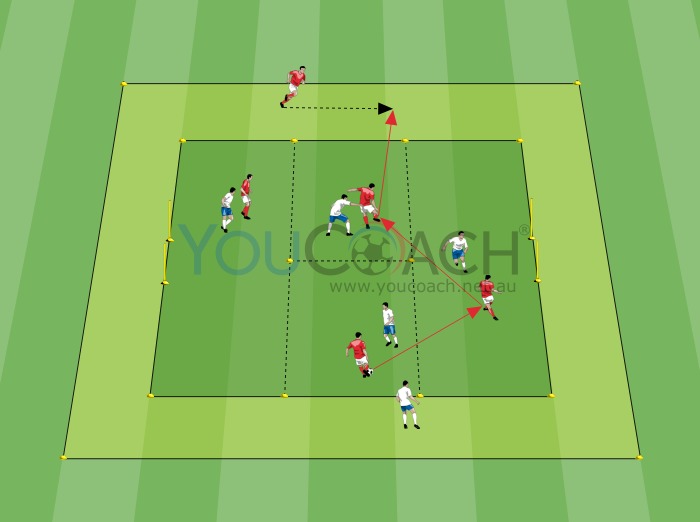 Rules
Each player has to play always inside of their zone
The supports move along the outer sideline helping develop the game without contrasts between them
The ball cannot go out out the outline areas driven by a player, but only through a pass
The team that possesses the ball once they have reached the 6 passes they can shoot to any goal
6 consecutive passes are worth 1 point
Goals are worth 1 point
Variations
Once a team has reached the 6 passes its players can move freely to shoot to goal
Increase of decrease the number of passes needed to score a point
Increase or decrease the dimensions of the pitch based on the age and the characteristics of the players
Coaching Points
Players learn to place their bodies and to move in reduced spaces to receive the pass
A series of 1vs1 is created in reduced spaces that make the player pass the ball immediately and unmark their teammates
Support players are under a lot of aerobic work, make sure to give them the proper amount of time to recover