How to share exercises with YouCoachApp
How to share exercises with YouCoachApp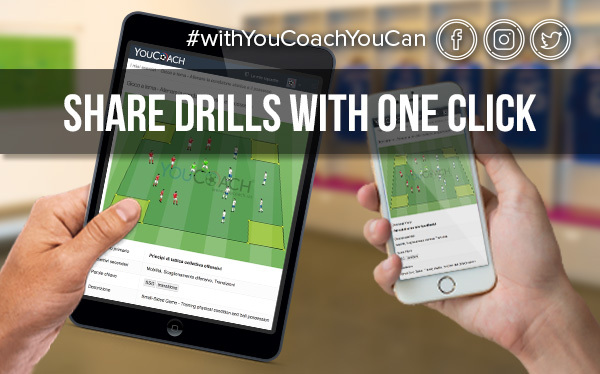 Summary
With YouCoachApp you can share your drills with your assistants and use drills created by your staff members
At the end of a training session coaches often chat with their colleagues and assistants to evaluate how drills have been executed during the workout: this is a good practice both to analyse how the training session has been and to examine different points of view. Sharing is important to refine your ideas and to reinforce the club's technical program.
Verbal confrontation between coaches is necessary, but it gets difficult when there is the need to tangibly exchange drills. 
Sure: emails, chats and social networks are used everyday to communicate. All you need is taking a picture of the paper you filled with notes about last training session, send it and you're done. The risk is that you will end up with a messy collection of files on various devices, loosing time to retrieve (and interpret!) them each time you need one.
That is why we created a simple feature that can save you precious time: sharing personal drills with your colleagues will become easy, immediate and intuitive. 
With the sharing feature, you can show other coaches, friends or even your technical advisor all the drills you created and used on the field. 
---
HOW TO SHARE DRILLS WITH YOUR STAFF
At the bottom of the page, the last entry says "Who can use this drill": by clicking on the drop-down menu you can choose to be the only one to use this drill or let other people use it. When an exercise has been used for a training session, it becomes visible to all users who have access to that training session, who are usually the account owner and the assistants. 
Tip: This procedure has to be done for each drill.

Sharing drills feature is not automatic, you decide whether and which drills to share. At any time you can change sharing options and make an exercise private. 
IMPORTANT: when you share a drill, you share it only with your staff members, it is not visible to other YouCoachApp users. Your database is not open to everyone, it is private and includes only your custom drills, your staff's drills and YouCoach database exercises.
---
STAFF MEMBERS' DRILLS: WHERE TO FIND THEM AND HOW TO USE THEM
All the exercises shared by staff members of the clubs you work with are collected and archived in the menu option "Staff Drills" under the menu item "Custom Drills".

These drills can only be viewed, not edited (they are property of a staff member). However they can be used to prepare training sessions (menu item "Training Sessions" - "New Session" - "Other filters" - check "Only exercises shared by my collaborators". (To learn how to create a new training session click here) 



Attention: it is possible to use these exercises only during the season in which the person who created them is collaborating with you. This means that, when a season ends and you file it, you need to send a new invitation for the new season to this person in order to have them in your database. In this way you will still be able to see and use them. 
As mentioned above, the prerequisite to be able to share drills is the invitation to a team staff in the app. In order to see your colleagues' drills, they have to have invited you to their staff (and you accepted that invite).
The sharing feature is really useful not only to create a network for a large staff, but also to share your work with friends and people you trust, allowing you to receive a feedback and maybe some help!
Start sharing your work with your staff right away with YouCoachApp!