Sprint training: Four Corners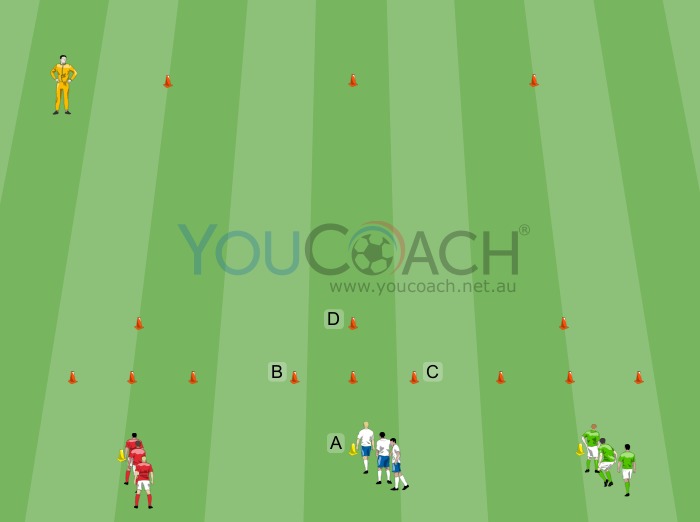 Playing area: 30x20 meters / 33x22 yds
Players: 18 (whole team divided into three groups)
Duration: 15 minutes
Series: 2 series of 4 repetitions per player, with 2 minutes of passive recovery in between series
| Summary | Secondary Objectives |
| --- | --- |
| Useful exercise to train speed, quickness, speed resistance and explosive strength on short distances | Quickness, Change of direction |
Organization
Prepare three identical courses consisting of six cones arranged as in the picture. The five cones at the beginning of the course are arranged in a diamond shape with sides of about 3 yards, four cones on the vertices (A, B, C, D) and one in the middle. The yellow cones indicate the starting point for the three groups of players. About 16 yards away from the cone representing the highest vertex of the rhombus, place a cone representing the end of the course. The players are divided into equal numbers at the beginning of each path, on the starting cone A (yellow in the picture).
Description
The first player in each line starts at cone A; sprinting, they move toward the center cone of the diamond and from there make a change in direction toward cone B to the left
Touching cone B, the player returns toward the center of the diamond and continues the sprint toward the opposite cone C in front of them
Upon touching cone C, the player turns around and returns toward the center of the diamond; they circle the center cone and, with a change in direction to the right, sprint toward cone D
Upon reaching cone D, the player continues running, with a progression at 80% of maximum speed toward the final cone and ends the course
Arriving at the end of the course, the player continues in slow jog back, in active recovery, returning to the starting position and waiting for their turn in line
When the last player in the line has reached the end of the path, the first one starts again.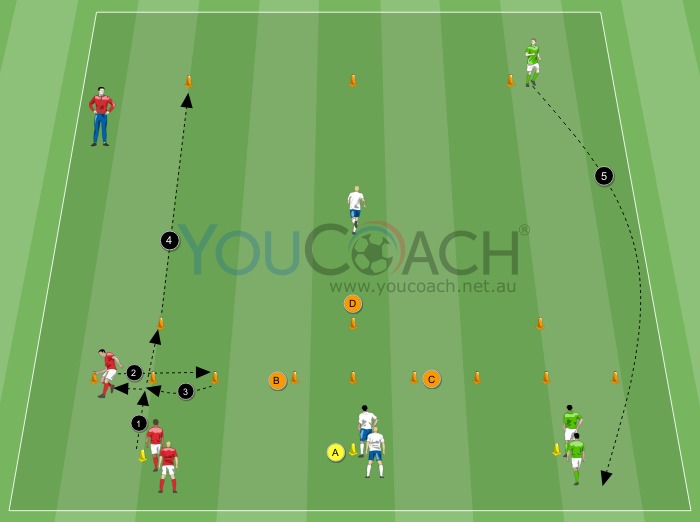 Rules
The exercise should be set up as a competition: the team that finishes first gets a point
It is compulsory to touch the cones on the vertices with each pass
The exercise is to be repeated four times in a row for each series
Variations
Increase or decrease distances between cones and recovery times
Modify the route as desired, such as by changing the sequence of cones to be tapped
Increase the number of sets and repetitions to intensify anaerobic work on speed endurance and explosive strength
If you want to train only speed and quickness, reduce the distance of the course and allow larger recovery breaks
Coaching Points
Have players perform an adequate warm-up before the exercise
Beware of changes in direction: in players with muscle fatigue problems could cause injury
Players in the change of direction should alternate the supporting leg to distribute the muscle effort on both limbs while performing the run