Simplified Situation - Functional 3 vs 1 in the defensive zone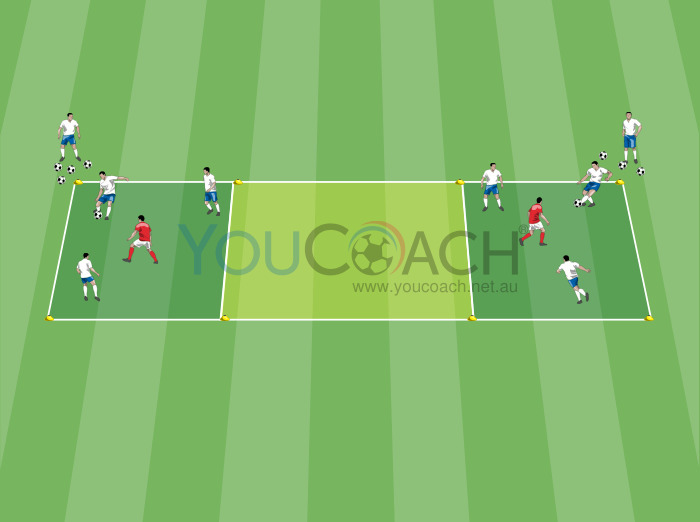 Playing area: 40x10 meters 
Players: at least 8
Duration: 15 minutes
Series: 3 series of 4 minutes each with 1 minute of passive recovery inbetween
Organization
Using markers, create two rectangles of 8x10 meters. Between these two areas leave a neutral zone of 15 meters (lighter color in the picture). Players are displayed inside the rectangles in accordance with their roles on the field. If you have more than 6 players, it would be great to have two per role that you can swap during the exercise in order to maintain intensity high. Two external players stay outside the rectangles.
Description
These drills have the aim to improve defenders' ball possession and automate their movements without the ball to attack opponents starting from the defensive line. These exercises are useful to develop attack manoeuvre starting from the defensive line with a 4-defender lineup.
Players take turns in ball possession by swapping position with their external teammate (at the coach's signal)
Repetitions and workload depend on players' skill level, endurance and age group 
The coach stops the game whenever deemed necessary
In the first 3 vs 1 central defender, wingback and another player (that could be a wing or a midfielder) possess the ball against a forward in both areas.
Players can only move on certain lines and play with one or two ball touches at most
Players without the ball have to support to maintain ball possession 
When the forward recovers the ball, they give it back to defenders and the game keeps on going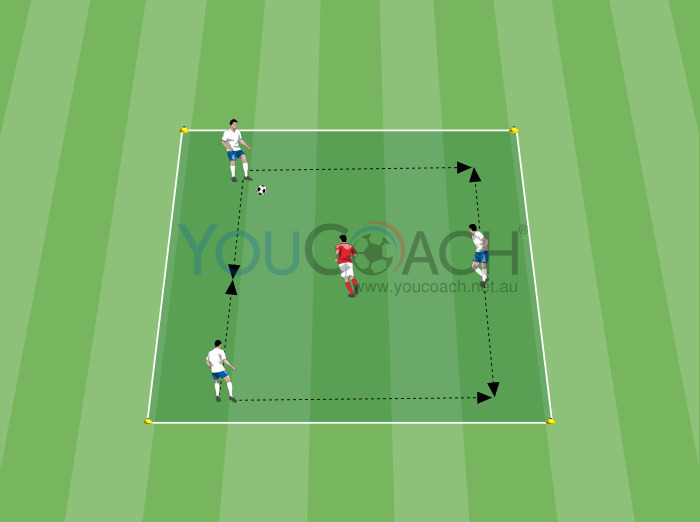 Central defender, wingback and midfielder can move on certain lines as shown here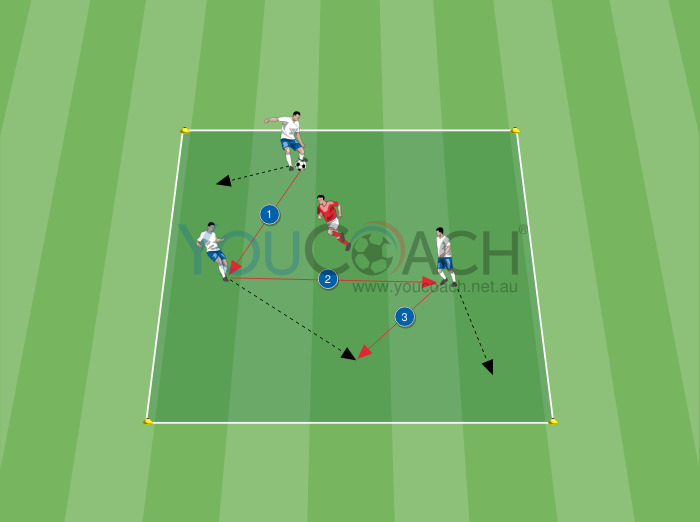 Players can play quickly with one or two ball touches and have to keep supporting teammates even without the ball
Second 3 vs 1 is more complicated, because players with ball possession (four defenders and two white midfielders) work together interacting from the two rectangles. 
Players can move as in the first game. Central defender, wingback and midfielder play against one attacker in both areas
When free from attacker's pression, player with the ball can pass to another player on the opposite rectangle
As shown in the example, in the left rectangle the central defender, the wingback and the midfielder pass the ball quickly. Then, at the right time, central defender passes the ball to the other area. In this case, central defender and midfielder can move outside their lines to receive the pass and then go back to their zone to play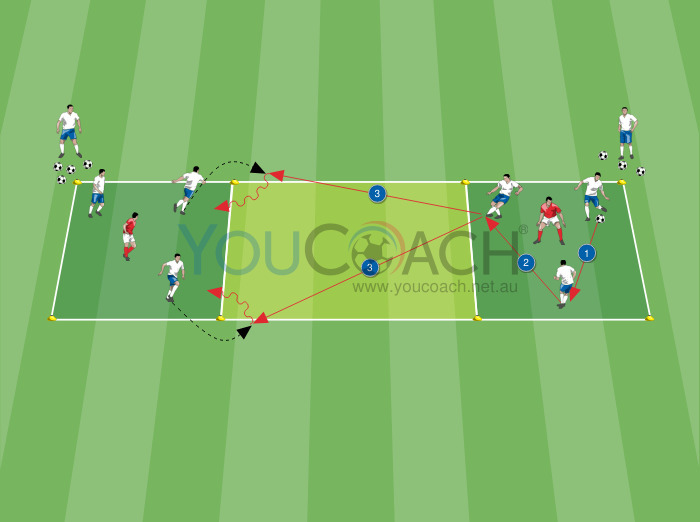 Rules
At the end of each series the coach can change two attackers (red) to distribute the workload
Coaching Points
Spaces should be suitable for the age group
Precision and power of passes are important
Players without the ball should move constantly 
View of the game is important to find right timing 
Good communication and cooperation are fundamental
Correct mistakes
Keep the ball on the ground during ball possession
Attention to training load and recovery time
Have some balls nearby to keep the exercise going
Proper warm-up