From ball possession to goal - Juventus FC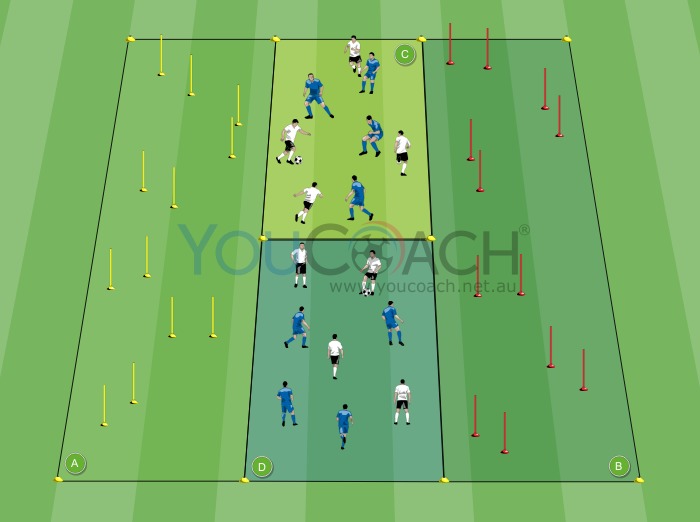 8 vests
24 poles or cones
Markers
Sufficient balls for continuity
Playing area: 45x36 meters
Players:16
Running time: 20 minutes
Series: 5 series of 3 minutes with a 1 minute pause of recovery
| Summary | Secondary Objectives |
| --- | --- |
| This exercise includes 2 stages one of them for ball possession and the other for shooting to goal | Stamina, Aerobic power, Pass, First touch, Dribbling, Losing your marker, Intercepting, Improvisation, 4 versus 4, Possession triangles, Pressing |
Organization
Make a 45x36 meters playing area and divide it into 4 zones as shown in the picture. In areas C and D place 2 teams with 4 players each, put a ball in each square. In areas A and B make 6 nets per zone with poles or cones.
Description
The game is divided in 2 stages:
In the first stage in the two central zones C and D the two teams keep possession trying to execute 10 consecutive passes
After the 10 passes have been executed, stage 2 begins in this part of the game a sudden change in the area occurs, players should try to score a goal dribbling and crossing the goals 
Example
Players from zone D are executing the last 3 passes to reach the 10 passes objective and once they accomplish it they move onto stage 2 to zone B  where the player that receives the ball tries to score a goal crossing the net.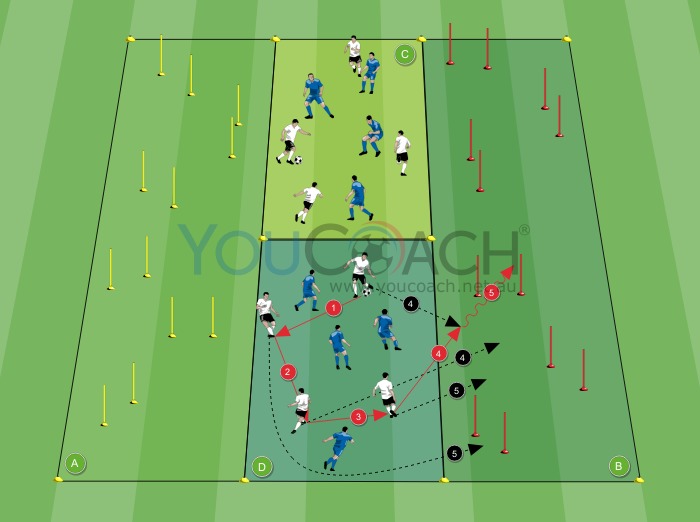 Rules
If the team without ball during stage 2 recovers the ball they can try to score a goal
Every 10 passes players own the right to move onto stage 2 and score a point
Each goal is worth a point
At the end of the 3 series the winning team will be the one that scores the most points
Variations
Man marking in stage 2
In stage 2 goal is accomplished by passing the ball to the mate through the nets
Coaching Points
During stage 2 speed resistance is trained, players are encouraged to maintain a high rhythm
Modfying the number of nets increases or decreases the intensity of the workout
During stage 1 if players are standing still that might only be acceptable if it is due to a tactical move or an exception
To accomplish a continuous mobility and keep players in the right positions, two close players who are on the same line either horizontal or vertical must move in order to create diagonal passing lanes