Attacking action with lofted ball, attacking movement by the forwards and finishing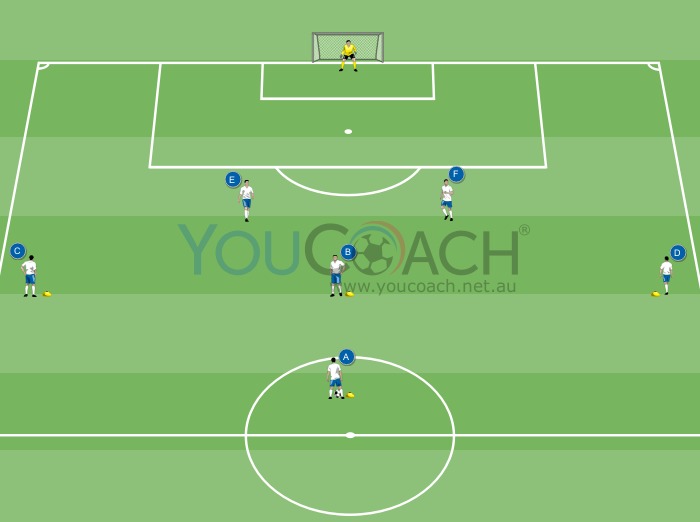 4 markers
Sufficient balls for continuity
1 regulatory goal
Playing area: 60x50 meters
Players: 6 + 1 goalkeeper
Duration: 15 minutes
Series: 3 of 4 minutes with 1 minute pause of passive recovery
Organization
The area used for this exercise is half of a pitch. Some meters further on the halfway line place a marker. At 30 meters from the goal place 3 markers, one in the center and two close to the touchlines. Players A, B, C and D go to their respective markers (See picture). On the limit of the penalty area place the two forwards (E and F). Give a ball to player A.
Description
This is an example of how to develop the exercise:
A executes a medium-long pass towards forward E, who meanwhile executes a come and go movement to get closer to the pass
E executes a support at first touch towards B
B, at first touch, passes the ball as accurately as possible to the space towards C, who meanwhile has sprinted in depth along the touchline towards position C1
Forwards E and F get in the area to execute a crossing motion between them on E1 and F1, while C hits a lofted ball inside the area
F shoots at goal
Once the action is done, players quickly go back to their positions and get ready to repeat the exercise from the opposite side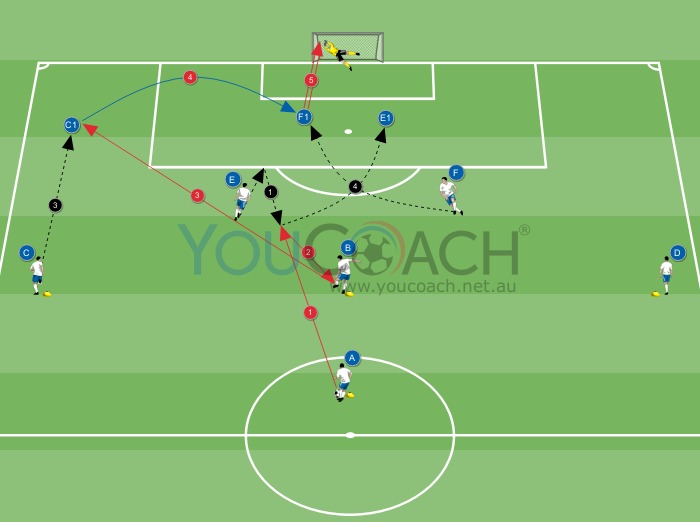 Coaching Points
Exchanges between players are done as fast as possible and in the proper moment to avoid the intervention of rivals during a match
Pay attention to the incorporation moment from the outside and to the crossing motion moment of the forwards
The player, during the execution of the lofted ball, must close the skill after hitting the ball accompanying the trajectory with the leg
Use all attacking players that are in the team. Each player goes to their usual position.