Aerobic workout - Match and race between the cones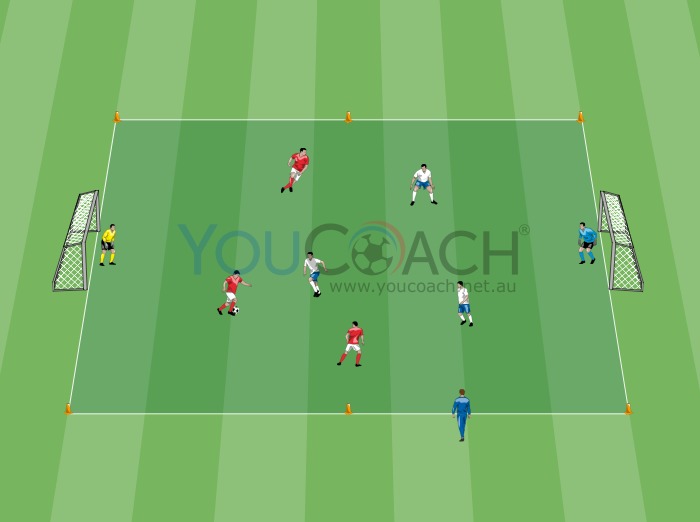 2 goals on two opposite sides of the pitch
6 cones placed along the lines of the pitch on the 4 angles and two on the halfway line
Sufficient balls for continuity
Playing area: 45x25 meters
Players: 2 teams of at leas 3 players each, goalkeeper included
Duration: 12 minutes
Series: 3 series of 90 seconds (2 minutes of recovery)
Organization
To improve aerobic capacity of player, this small-sided game provides wide race spaces. The game must be executed in the proper way to make sure players work hard to keep possession and score goals under physical stress and with little energy
The combination of passes and endings, together with the aerobic part complete an exercise that will provide so many benefits to the players.
Description
Both teams play a regular 3vs3 match, trying to keep possession and score
In casual moments, the coach will say a command to indicate that players have to run around a cone and then go back to the pitch
Players turn around a cone, one player per cone
The game starts all over again normally once players go back to the pitch
The game (A series) lasts 90 seconds, with a 2 minutes break in between. Rotate teams in such a way that each of them plays 3 matchs (3 series)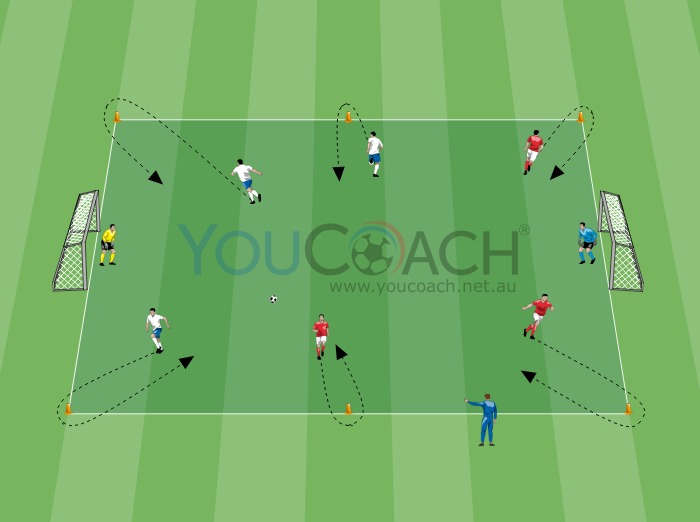 Variations
Impose man marking
Specify at the beginning the cone that players should surround
Introduce a maximum number of touches
Coaching Points
Ask players to shoot from far away
Players have to help themselves, using even the goalkeeper to keep ball possession
Pay attention to acoustic and visual signals. Visual/Acoustic for the match and acoustic for the coach
Goalkeepers can work on stopping techniques
Keepers help teammates keep possession
Passes must be fast, accurate and along the ground if possible.